Do This Before Holiday Shopping This Year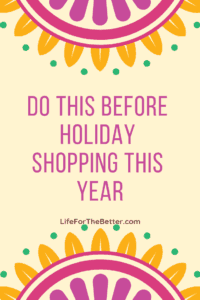 I am not a fan of leaving money on the table. If I can use cashback to my advantage, I will. This can be through credit card cash back programs, Ebates, and even discounted gift cards. I've also mastered the cash back program by combining all possible techniques!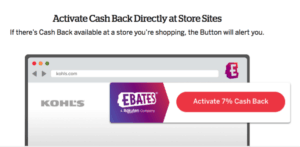 When I shop online, I'll go to a retailer and shop like normal. I then have the Ebates plugin button installed on my browser. This automatically applies coupon codes and cash back.
This will alert me if the site has cash back. In the example above, if I were to shop at Kohl's, Ebates would give me 7% cash back on my order! That's not even including coupon codes.
Click here for $10 when you spend $25 & sign up for Ebates!
Next, I go to Raise.com and find a discounted gift card to buy. Raise is also linked with Ebates for 1% cash back! There are also times that Raise has 4% cashback for holidays and promos.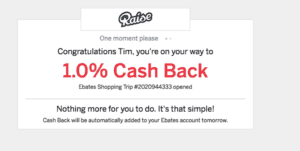 In our example of Kohl's, you can see Raise has 5% cashback. Pair that up with your 1% cash back from Ebates.
After purchasing the gift card, go back to Kohl's and pair it up with the 7% cashback. That's already 13% cash back for a few clicks! Not to mention any coupon codes you will be using or credit card cash back programs.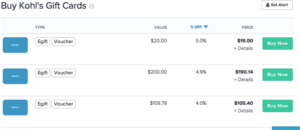 I also use the browser extension Honey. Honey will find coupon codes across the web and automatically apply them at checkout. No more searching for "Kohl's coupon codes" on Google anymore. This browser extension takes care of that for you!
This process works with many other retailers as well – The Home Depot, Hotels.com, Nike, Under Armor, Airbnb, Walmart and more!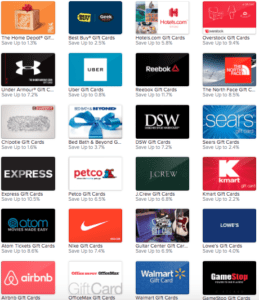 I've been using Raise for a year now and have saved $140!

I then pair it up with Ebates as I mentioned earlier for additional savings.

That's $318 saved just for clicking a few buttons!
Step by Step Process
Sign up for Ebates. You'll get $10 once you spend $25.
Sign up for Raise.
Go to Ebates and search for Raise. This will allow you to receive 1% cash back on the gift cards you buy at Raise.
Once you're on Raise, search for the gift card you'd like to buy.
Go back to Ebates and search for the retailer to recieve additional cash back.
Shop at the retailer like normal. Upon checkout, use the gift card you bought from Raise. You then will receive cash back from Ebates plus be using the discounted gift card.
Use any promo codes from Honey. They will automatically fill in the promo code box for you to have an additional savings.
Save! Save! Save!
We use Personal Capital to track our net worth. We simply connect our assets and it tracks everything for us! Our net worth, cash flow, budget, investment fees, retirement planner, and more are tracked through this site. It's completely free too! Sign up for free and receive $20 when you open an account!