Living A Better Life Interview – Next Gen Wealth
In our brand new interview series, we are interviewing various individuals from across the web. This interview series focuses on how they are living a better life. They can be living a better life by pursuing financial independence, minimalism, simplicity, and many more aspects. Are you interested in being interviewed? Continue reading!
Want to be interviewed?
If you want to be interviewed about how you are living a better life. Contact us at [email protected] and tell us why you'd be a great candidate!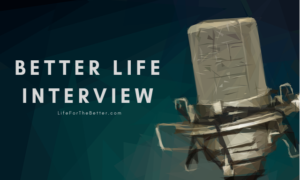 Give us your best elevator speech!
After being in the financial services industry a few years, it became quite apparent to me that if you didn't have a $1,000,000 or $2,000,000 in investable assets, you weren't going to get much help from the majority of financial planning firms out there – and if you did, most likely it was going to be the same generic advice they give to anyone no matter their situation.
With that being the case, I wanted to create a practice that was centered on working with individuals who didn't exactly fit that mold, but were certainly on their way and needed quality individualized planning advice – the truly overlooked and underappreciated. So that's exactly what I did in creating NextGen Wealth, where we specifically cater to successful business professionals, entrepreneurs and small business owners.
It's been an exciting calling as I've been able to build a great practice working with individuals and families who are all going through similar situations and share many of the same needs, wants, and goals.
How are you living a better life than you were last year? 5 years ago? 10?
Compared to 5 to 10 years ago, I can point to a number of things that have improved over that time frame. We have much more free time for fun and vacation while still continuing to grow financially at a faster pace every single year.
I practice The Miracle Morning every single day and that's really helped me start the day focused and much more intentional with what I want to accomplish. Having a morning routine that lines up what I need to do the rest of the day has been huge for me particularly with as many distractions that can come into play on a daily basis.
What would you tell your younger self?
That being successful isn't just about money. I look at success today and equate it to freedom and happiness. I could have all the money in the world but if I'm not free to do what I want when I want then I'm not going to be a very happy person.
I would also tell my younger self to hang with people who you want to emulate. It's amazing how the people close to you can have such an impact. If those people aren't people you look up to and respect (and want to be like), then find some new friends to hang out with. It's hard to accept and see that when you're younger, but as I've grown and matured, it becomes quite apparent.
What made you want to change the way you were living?
I'm not sure if I can really narrow it down to just one thing, but I think it was just seeing how other people live and how happy and successful they were that I wanted to figure out how they did it.
It's not like there was anything wrong with the way I was living and I could have probably made it through life fine living that way. However, I think I began to realize that I'm only going to have one life, and who knows how long it will be, so I better make sure I'm living it to the absolute fullest.
Does financial independence play a role? If so, how?
Absolutely! Financial independence is something I look at every day in my daily affirmations. Having control over how much I want to make and need to live off of to have a great life motivates me every single day.
Just knowing that we have a plan for financial independence brings me peace of mind. It's what motivates me to be the absolutely best financial planner I can be to all of my clients.
What advice do you have for others in living a better life?
Just commit to it! Stop thinking about it or reading about it and just jump in. There's never going to be a perfect time so just rip the Band-Aid off and get started. The only person that can control whether or not you're going to live a better life is YOU.
You have the power to live the absolutely best life you possibly can. There are tons of websites, podcasts, coaches, etc. that can certainly help (and sometimes be overwhelming) but it's truly up to you if you want to commit to living your best life.
What books/podcasts/blogs have you consumed that lead you to this point?
The books that have had a major impact on my life and that I've read multiple times include The Miracle Morning, Influence, Talent is Overrated and The Power of Habit.
I am a complete podcast addict and have been for a couple years now. I look at them as my daily professional development. I've listened to a number of different ones over the years, but these are the ones who still remain on my playlist and have certainly had a major impact in my life: Achieve Your Goals with Hal Elrod, Financial Advisor Success Podcast, Masters of Scale, The James Altucher Show, The Time Ferriss Show and This Week in Startups
As for blogs that I consistently read, those would include Rockstar Finance, ESI Money, and Physician on Fire.
What's one area in your life you still struggle with?
I still struggle with putting off certain things that I know are going to take a lot of time. But, of course, these are also the most important things that will typically have a major impact on my goal of financial independence. Don't get me wrong, I eventually get to them but it's typically not until there's absolutely nothing left for me to do on my task list.
I know they always say to do the hardest thing on your goal list first thing in the morning, but I'm still not there yet. I do a lot of the times, but there's just something in my brain sometimes that wants me to kick the can down the road.
However, what I've found out over the years is if I just get started on whatever the project is, even if it's just for a minute, that I'll stick with it and see it all the way through.
If you had to give just 1 tip that you've learned along your journey, what would it be and why?
This theme has been sprinkled throughout my answers already, but my one tip would be to just do it. Stop putting things off because you don't think it's the perfect time or everything isn't exactly how it should be.
There's never been a perfect time to start a new business, but look how many successful businesses there are today. So, whatever it is you want to do, stop putting it off and just do it. I can assure you that your future self will thank you.
As one of my favorite quotes goes, "If you're unwilling to fail, then you're unwilling to succeed."
Where can readers get in touch with you?
I can be found at NextGen Wealth or NextGen Life Insurance. You can contact me directly through each of those sites.
As for social media, you can find me on Twitter @Clint_Nextgen, Facebook and LinkedIn.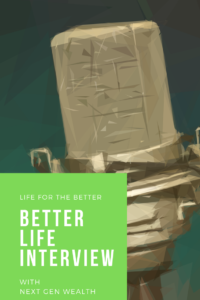 We use Personal Capital to track our net worth. We simply connect our assets and it tracks everything for us! Our net worth, cash flow, budget, investment fees, retirement planner, and more are tracked through this site. It's completely free too! Sign up for free and receive $20 when you open an account!