Millennial's Adding Fuel to the FIRE
I started on my road to financial independence when I enlisted with the Air Force at age 17. To be honest, I didn't know what Financial Independence Retire Early was at that stage of my life. However, I did know that I wanted to set myself up for the future. I've since amassed a net worth of 225K by age 25.
I've learned from many individuals in the personal finance world. Most of them have been older than me. I believe they have set the benchmark for individuals like me, Erik from Mastermind Within, Gwen from Fiery Millennials, J from Millennial Boss, Cody from Fly to FI and many others in their 20's pursuing financial independence.
The need for millennials to attach to financial independence is a must. We are the future not only for blogging but for the nation. Instilling the ideas and the mindsets of financial independence will carry on to future generations.
Long gone are the days of staying late at work to achieve company profits. The financial independence community is showing corporate America that individuals' personal lives matter and that the company should strive to help out the working man and woman so they can, in return, help out the company. Taking care of one's employees should be a priority.
By helping out the employee, the company will receive higher profits in the long run because the employee will stay longer at the company for a longer since they are a valued employee. The employee will also be recharged and ready to work because their family and personal lives are taken care of.
If we want the financial independence movement to continue to grow and be passed down to future generations, it starts now. There is no better time to pass along knowledge than today. Millennials who are willing to learn have some of the best teachers in the world: our past generations.
Learning about financial independence at such a young age is a blessing. We can hone in on our skill sets for decades to come and then pass that information on as a legacy. That's the only way the FIRE movement will continue to grow. Otherwise, the info will become embers waiting to be rekindled. The millennial generation is the fuel to the FIRE.
If you're still reading at this point, my challenge to you is to share the FIRE movement with others. Share it with a high schooler or recent college graduate. Keep breathing fresh air into the FIRE so others can benefit from a lifetime of fulfillment.
What have you done to add fuel to the FIRE?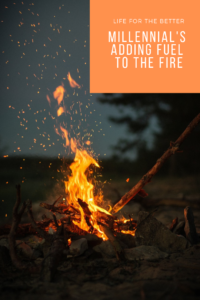 We use Personal Capital to track our net worth. We simply connect our assets and it tracks everything for us! Our net worth, cash flow, budget, investment fees, retirement planner, and more are tracked through this site. It's completely free too! Sign up for free and receive $20 when you open an account!