Why The Financial Independence Community Matters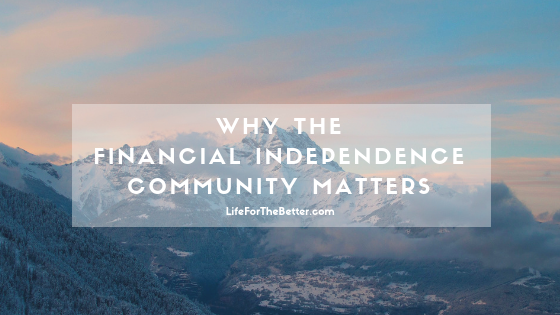 Financial Independence is a lifestyle. It's not for everyone. But just like any hobby or passion – sports, arts, theater, cooking, another language, etc., financial independence is a common goal of a community. Being part of a group of like-minded people is invaluable for a number of reasons.

Accountability Matters
By holding one another accountable, we are more likely to continue on the path to financial independence. We can surround ourselves with those of similar values – not just financial, but life values as well. By stating that we are on this path to FI together, in a way, we are keeping an eye on each others' actions. I don't want to let others down by saying one thing and doing another.
We also hold each other accountable by continuing to teach others about financial literacy. This is a lifelong journey that needs to continually grow. Tax laws change. Market trends change. Nearly everything changes with time. The FI community matters because we've got each other's backs.
We learn from each other's mistakes & successes
During a market downturn, we have one another to count on in "staying the course." We can learn from each other what to do and what not to do. Trying to learn everything on your own would be nearly impossible. For instance, I wasn't investing during the 2008 market downturn, so I need to count on others to teach me about that time period.
Each one of us has made plenty of mistakes in our lives or have done things we wish we would have done differently. This community continues to grow, learn, and teach from those mistakes.
We've also had our successes in life. We've shared how we've gotten from point A to Z and everything in between. Sharing our success with one another helps us stay on track.
Reassurance Matters
The path to financial independence can be lonely at times. We can question why we are even doing this in the first place. Our progress may seem slow at the beginning but as time continues, so does compounding interest. We can see more and more progress. During these hard times, the financial independence community can erase these shadows of doubt.
Having a teammate there to back you up helps out considerably. You can lean on one another in times of doubt. Reassuring a teammate can also help yourself reassure why you got started in the first place.
A "Cents" of Belonging Counts
The financial independence community matters because we have a strong sense of belonging. I've found that I have more in common with those on the path to financial independence than I do with those who are not. I've always wondered why this is, but it comes down to values in life. We value time with loved ones, travel, and learning, among other things.
Everyone is extremely welcoming and understanding. This community has a sense of shared values that carry on further than money. I believe money is the secondary component to financial independence and life is the primary component.
The cohesion of this community is awesome!! 😊 We stick together while avoiding groupthink. Win-win!

— Paula Pant (@AffordAnything) October 6, 2018
Different Perspectives Offer Value
There are always different perspectives on any matter. This leads to more discussions and learning. For instance, in recent news, Paula Pant had Suze Orman on her podcast show "Afford Anything." This has sparked many different opinions on what FIRE stands for. I tweeted this in response to Paula's tweet:
Think it's great to continue to educate everyone. As long as we can have open dialogue about our differences we'll be alright. Everyone has the right to be skeptical and not understand it. It's our job to educate one another.

— Life For The Better (@LifeForTheBettr) October 13, 2018
If we can continue to educate one another whether we agree or not, we'll be alright. FIRE is a lifelong journey and the road to education is as well. The moment we stop learning and growing is the moment we start dying. Each financial situation is different for every household. That's why we all have different perspectives about money and should always be open to learning more.
We also have unique attitudes when it comes to living. Some individuals want to "Fat FIRE" and others want to "barista FIRE." Some individuals want to go tiny and others don't want anything to do with that.
At the end of the day, the financial independence community matters to everyone involved. We all support one another on this journey of FI. We add fuel to each other's FIRE. Whether we agree on different strategies for tax optimization, lowering bills, or if retirement is optional after hitting one's FI number, the financial independence community makes "cents" and matters.
One Year Ago
We started our blog one year ago almost to the date. We wanted to be involved with the financial independence community more and more. We found we had more in common with our "internet friends" than some of our real-life friends.
We started blogging in order to tell our unique story of tiny house living and our path to financial independence. L and I also wanted to become better writers and develop more in-depth thoughts. Last and most importantly, we wanted to help others in some way shape or form. If we could help just one person learn from our story we would call the blog a success. We believe the blog is now a success after one year and can't wait to see where the future takes us.
We also have found that being a blogger is more than hard work but it's also rewarding at the same time. We receive comments from other bloggers about our posts or emails from random people we've never connected with before and immediately felt like instant friends.
By having a blog there is more to it than just consuming the information. One needs to develop thoughts around an idea and put it to paper (or type). This makes you think critically about the information being put out to the world. It also helps reaffirm your drive to the financial independence community.
Where Life For The Better Has Been Featured
Within the past year, we have been grateful and honored to be featured across the web. Here a list of the places we've been able to share our story at:
What We've Learned About "Going Tiny" So Far
What We've Learned About "Going Tiny" So Far
The Paradox Of Financial Independence
Great Adventures Of Tiny Home Living
10 Things We Hate About Living In A Tiny House
Let's Talk Leadership with An Introverted Air Force Officer
Beginner To Blogger: Tim, Life For The Better
Momentum Series Interview – Life For The Better: Finances, Mindset & Tiny House Living
The Scariest Financial Advice I Ever Received
Blogger Confessions Interview Due out December 22nd
Moved Back In With Parents Book Due out in 2019
Millionaire Mob – Guest Post What's your why of FI
Your Money Geek – Best of the Web
Bloggers Who Have Taught Us Something
There are many many individuals that have helped us over our journey throughout this year. We couldn't have made it this far in telling our story without you. Thank you!
And in alphabetical order here are some amazing bloggers that have taught us something in our journey:
(Sorry if we forgot anyone!)
We are looking forward to expanding this list even further in the future. Reach out to us and interact!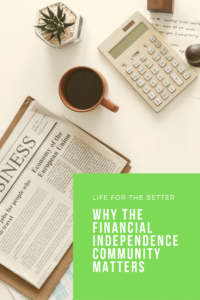 We use Personal Capital to track our net worth. We simply connect our assets and it tracks everything for us! Our net worth, cash flow, budget, investment fees, retirement planner, and more are tracked through this site. It's completely free too! Sign up for free and receive $20 when you open an account!