How I Got Paid To Attend College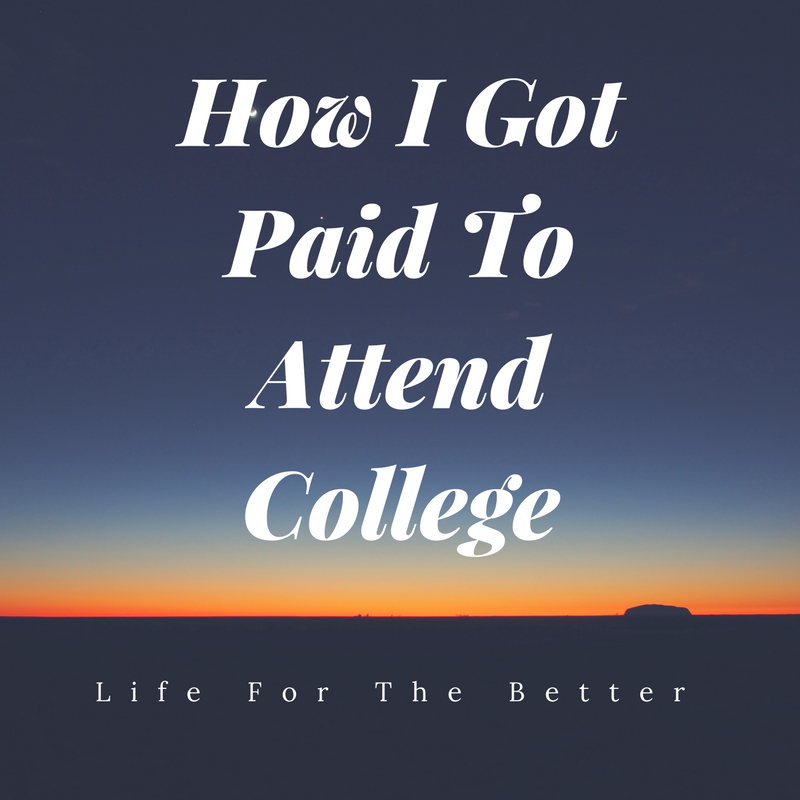 I joined the Air National Guard when I was still in high school at age 17. I always wanted to join the military and serve my country. Like most high schoolers, I was looking at my college prospects and knew the military had options for college tuition to be fully funded. My dad was in the Army National Guard for 20 years, my sister had just joined 2 years prior, and multiple family members were in the military as well. This gave me the knowledge of how the military worked but more importantly, how the Guard worked.


     The Guard is known for its "weekend warriors," or holding drill one weekend a month and two weeks a year. A Guard member works just one weekend a month (normally the first weekend of the month), and then two weeks during the summer. This was perfect for my situation of wanting to go to college full time. It allowed me to have 100% of my tuition covered, a G.I. Bill that was $362 a month and could be used for gas, groceries, rent, or anything else, also a Guard drill paycheck – roughly $200-$250 a month, plus military experience. In joining the Air National Guard, I could go to basic training, learn about my future job, and then return in time for college.

    What I didn't know at the time was that I would be activated on orders (meaning full-time active duty) for the next six years. I ended up working shift work for the six-year timeframe and being called to active duty. This was a huge benefit for my plans of going to college. What this allowed me to do was work from 11 pm to 8 am and then go to class for the day. Working the overnight shift has a lot of tradeoffs. One's sleep schedule is completely reversed by sleeping in the evening and staying up at night. This also meant that some days I went on zero sleep because life happens. I had to pre-plan everything from oil changes, to grocery runs, to doctor visits, etc. This also meant that my G.I. Bill increased from $362 a month to $686 a month. How this worked in the past (ended in 2015) was a program called REAP (Reserve Education Assistance Program). Once a Guard or Reserve member was placed on active duty orders, their education benefits would increase. A guard member is usually on Chapter 1606 for the G.I. Bill and once activated, they are placed on Chapter 1607. What this also did for me was provide me a full-time paycheck with the military by being on active duty orders instead of a Guard drill paycheck. In addition, I would receive a housing allowance of $750 a month. I took it a step further and found a co-worker to split the rent with. Our rent with utilities was $700 each month so that meant that we each pocketed $400 a month, tax-free! (Housing allowance is tax-free for military members.) I also received free health care by being on active duty!

You can find the most recent and historical G.I. Bill Rates here.

American Opportunity Credit

     While in college, I qualified for the American Opportunity Credit for $2,500. As defined by our friends at the IRS:


"The American opportunity tax credit (AOTC) is a credit for qualified education expenses paid for an eligible student for the first four years of higher education. You can get a maximum annual credit of $2,500 per eligible student. If the credit brings the amount of tax you owe to zero, you can have 40 percent of any remaining amount of the credit (up to $1,000) refunded to you.
The amount of the credit is 100 percent of the first $2,000 of qualified education expenses you paid for each eligible student and 25 percent of the next $2,000 of qualified education expenses you paid for that student. But, if the credit pays your tax down to zero, you can have 40 percent of the remaining amount of the credit (up to $1,000) refunded to you."




Community College of the Air Force

     While I was in school completing my bachelor's degree, I was also finishing up my CCAF (Community College of The Air Force) degree. This simply is an associate's degree in a person's AFSC (Air Force Specialty Code), or his or her job with the Air Force.
     To complete this associates degree, one must complete:
Technical school

Physical education

Leadership, Management & Military Studies course (Airman Leadership School, NCO Academy or SNCO Academy)

Five core classes consisting of speech, English, math, social science, and humanities.
     Sixty-four credits may seem like a lot to complete at face value, but when broken down, it's actually really simple. Especially if you complete your bachelor's degree along with it.

     Once one completes Basic Training, the next step is going to technical school to learn about their job in the Air Force. This completes one requirement right away for a degree.

     Physical education credits are accomplished by passing Basic Training. Another one down!

     I completed my Leadership, Management & Military Studies class through Airman Leadership School. This is one of the harder requirements to completing one's CCAF because it encompasses a promotion to E-5 and PME (Professional Military Education). Airman Leadership School is when an Airman is trying to rank up from E-4 to E-5 and become a Non-Commissioned Officer. The course itself teaches leadership and how to supervise other Airmen.

     The next five courses can be the same courses one completes while doing his or her bachelor's degree. It's just a matter of sending in transcripts and they are all set!

     The majority of one's CCAF is accomplished while simply working and being in the Air Force. Basic Training and Technical school are a given and after a while, going through Professional Military Education is also set to happen. All one has to do after that is complete the general classes. 



AU-ABC

     The Air University Associate to Baccalaureate Cooperative, or AU-ABC, a program is a little-known opportunity within the Air Force. Once a member completes their CCAF degree, they can find an accredited civilian college that offers a bachelor's degree and is partnered with the Air Force. This program guarantees that one will complete no more than 60 credits in order to complete a bachelor's degree. Essentially, one takes the CCAF and knocks off two years worth of a bachelor's degree. Military members can still use tuition assistance, GI Bill, or other scholarships to pay for college.



Recap

     2013 to 2016 was an extremely time-consuming period in my life. I started my bachelor's degree in 2013 and graduated in 2016. After getting paid to attended college for three years, this might be the only time where I should have stayed in college for an extra year to get paid for one more year of attending classes. I completed my associate's degree and bachelor's degree at the same time while working full time on the night shift. In addition, during this time, I was promoted to Staff Sergeant (E-5), changed from a Drill Status Guardsmen (meaning one weekend a month, to Title 10 orders/Active Duty), to a Federal Technician position. Then I went from Federal Technician to Active Guard and Reserve (AGR), to finally being selected as a 2nd Lieutenant.

     The next step in furthering my education is to repeat this process with my master's degree. The Air National Guard will pay 75% tuition for up to 39 credits.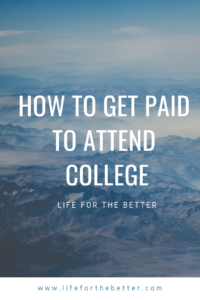 We use Personal Capital to track our net worth. We simply connect our assets and it tracks everything for us! Our net worth, cash flow, budget, investment fees, retirement planner, and more are tracked through this site. It's completely free too! Sign up for free and receive $20 when you open an account!