How Much of Your Life Did You Exchange For That?
How Much of Your Life Did You Exchange For That?
The following is a guest post from We Be Trippin. We're so excited to share this guest from Eddie & Megan because this post talks about trading your time for money. They also give real life examples with numbers to help break it all down. Let us know what you think of the post in the comment section and go check out their amazing journey as they adventure across Europe!
Author Bio:
Hi!  We're Eddie & Megan, two 30-something newlyweds from the US who geek out about international travel and personal finance.
Our professional backgrounds include finance/accounting, data analytics, and software development.  But we're stepping away from the typical 9-5 for an entire year while we eat, drink, and adventure our way across Europe!  It will take a lot of planning and financial diligence and we will be sharing with all of you.
Our lifestyle includes everything from sitting on the couch drinking a glass of wine to traveling the world with only our backpacks.
Thanks for following along on our journey!
If you haven't already read the book Your Money or Your Life, we highly recommend it.  The original was published over twenty-five years ago, but was just updated in 2018 to be more relevant for today's readers.  
One concept the authors really drive home is that employment is, effectively, trading your time for money.  Whether you work 5 hours a week or 50, most traditional jobs still require you to go to an office and spend x amount of time there in return for receiving funds deposited into your checking account roughly every two weeks.  
After reading the book, one idea kept lingering in our minds.  Your gross income (whether salaried or hourly) isn't what you are truly earning.  If salaried, you may or may not work the prescribed "40 hour work week."  You likely spend time each workday commuting to and from the office. Your job may require you to have a wardrobe that matches the office culture and expectations of clients.  Coworkers may talk you into eating out when you had intended to eat the lunch you brought from home. Essentially, each of these "costs of earning a living" reduces the price we are willing to accept for an hour of our lives.
If you are a freelancer, you have likely already calculated your minimum hourly rate you are willing to accept for new clients.  
We will use a simple example to demonstrate…
Gross salary: $60,000
[The U.S. Census Bureau reported in September 2017 that real median household income was $59,039 in 2016.]
Expected Hours per week: 40
Actual Hours per week: 50
Weeks per year: 50 (assumes 2 weeks of vacation)
Daily round trip commute: 60 minutes and 30 miles
Average cost of a gallon of gas: $2.50
Miles per gallon: 30 (be a responsible human being, yo)
Office Dress Code: Professional – estimate $500 per year spent on work attire (This will depend upon your profession, of course.  It also includes dry cleaning said attire.)
Cost of Lunch at a Restaurant (including tip): $15
Cost of Sack Lunch: $5
Number of Times Coworkers convince you to ditch your sack lunch and go out: 3 x per week
[Side note: We chose not to factor in income taxes, as this would vary significantly by state and country.  Just know that your true take home pay is actually even lower.]
Please double check our math:
| | | | |
| --- | --- | --- | --- |
| Hours per week | 40 | 50 | |
| Commute hours per week | | 5 | |
| Net work hours per week | 40 | 55 | |
| Total Work Hours per year | 2,000 | 2,750 | Number of work hours per week * 50 weeks |
| | | | |
| | | | |
| Gross salary | $60,000 | $60,000 | |
| Lunches | -$1,250 | -$1,750 | $5 for a lunch from home vs. $15 for a restaurant lunch |
| Professional work attire | | -$500 | |
| Cost of gas | | -$625 | (30 mile round trip commute * $2.50 per gallon * 5 days a week * 50 weeks) / 30 mpg |
| Subtotal | $58,750 | $57,125 | |
| | | | |
| Pay per hour | $29 | $21 | |
| | | | |
| | | 71% | lower than expected |
Your gross pay per hour is only 70% of what you thought you were making when you calculated it initially!  Ouch… And keep in mind that this is a simple example. It does not include taxes on that income, child care (if you have kiddos), health insurance, or anything else you may have to spend money on in order to hold a job.
At least now you have a more realistic picture of how much money you are trading for each hour of your life and can make decisions accordingly.  Is it worth it to you to hire a lawn mowing company? Answer: Yes, if they charge a lower hourly rate than you make at your job. (Granted…you don't always have the option to be productive and earn more income at 3 PM on a Saturday afternoon but you get the gist.)
With a more realistic picture of the income side of your finances, you are now empowered to make more educated decisions about job changes, daily habits, and how to maximize our true income.
The authors of Your Money or Your Life go on to explain that once armed with the information about your true pay per hour, you can calculate how much of your time was spent earning the money to afford a new purchase you've been considering.  
It may surprise you to learn the hypothetical individual from the example above would be trading 24 hours for the latest Xbox One X gaming console (not to mention the days of your life you will undoubtedly spend playing games on it!)
We have recently been shopping for gear for our 1-year European Adventure and packing space is going to be a hot commodity.  Bonus points go to items that are lightweight, high quality, and multi-purpose.  Here are a few of the top items we have (or will have) shopped for by the time we leave for our trip and the number of hours Mr. Hypothetical Individual above would have had to work to earn enough to purchase them.
Looking at your packing list from this perspective might make you think twice about certain items.  
"Do I really need to invest an entire week of my life to buy a new laptop when the one I already have gets the job done?"  
We aim to be thoughtful and intentional about the personal belongings we choose to lug around the world with us since we don't want to be weighed down physically or mentally.
Now it's your turn…
Take a stab at calculating your *true* income per hour and compare it to a recent purchase.  How many hours of your life did you exchange for it? If you're comfortable with it, share your examples in the comments below.
Cheers!
-Eddie + Megan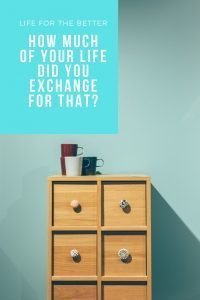 We use Personal Capital to track our net worth. We simply connect our assets and it tracks everything for us! Our net worth, cash flow, budget, investment fees, retirement planner, and more are tracked through this site. It's completely free too! Sign up for free and receive $20 when you open an account!