Living A Better Life Interview – Adventures in Mobile Homes
In our brand new interview series, we are interviewing various individuals from across the web. This interview series focuses on how they are living a better life. They can be living a better life by pursuing financial independence, minimalism, simplicity, and many more aspects. Are you interested in being interviewed? Continue reading!
Want to be interviewed?
If you want to be interviewed about how you are living a better life. Contact us at [email protected] and tell us why you'd be a great candidate!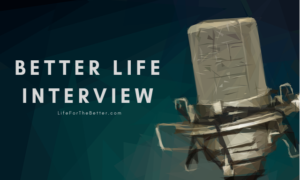 Give us your best elevator speech!
With over a decade of experience as a real estate investor and author, I write and share my stories and adventures about my experience investing in mobile homes. 
How are you living a better life than you were last year? 5 years ago? 10?
I'm definitely working less and enjoying life more. In the beginning, it's tough to start a business. Any business. I remember the early days working 80+ hours per week. As a real estate investor just starting out, the hardest thing for me to do was find my niche. It took a lot of time and energy. Through experience I found out what worked and what did not work based on my personality. Now I've built up enough passive income to do the things I want to do, not have to do. I still have to oversee and manage the business. But I can do other things as well.
What would you tell your younger self?
With anything you do, look at your personality. Study yourself first. Know who you are. Know your strengths. And know your weaknesses. Realize there are things you can and cannot do. Focus on your strengths. Get help from others when it comes to your weaknesses.
What made you want to change the way you were living?
As a former sales executive working for a Fortune 500 company, I was working for someone else. Not myself. As an employee, the company owned me and my time. I could not control how I used my time when I was working. By starting my own real estate investing business, I was able to control my time and the money I made. Though it was hard starting out and the hours involved, being an entrepreneur was the best decision I ever made. In the end, it's about freedom and time.
Does financial independence play a role? If so, how?
Most definitely! Now that I own my business, I control my time and money. If I want to take the day off, I can. Though, it is a two-way street. There is no one looking over my shoulder. I need to make sure things get done when they need to. If I have to work outside normal business hours and/or the weekend, then I have to. Though, I am being more effective with my time. When I work, I work. And when I'm finished with my work, I have the freedom and the time to do what I want.
What advice do you have for others in living a better life?
Prioritize what is important. And live your life accordingly. If you want to do something else but still need to pay the bills, start a side business. It will take time and a lot of hours. But realize you are building something for yourself. And for your future. Make time to do things you enjoy. Outside of work. This will allow you to be more productive and focused when it comes time to get back to work. By living a balanced life, you are doing yourself and your loved ones a favor.
What books/podcasts/blogs have you consumed that lead you to this point?
When I first started out as a real estate investor, I read the book 
Rich Dad, Poor Dad
 by Robert Kiyosaki. This helped me to learn the concept of passive income and financial freedom. From there, I consumed all of the books in the 
Rich Dad
 series. From there, the book 
Deals on Wheels
 by Lonnie Scruggs helped me to learn the ins and outs of mobile home investing. Regarding blogs and podcasts, I enjoy 
Afford Anything
 with Paula Pant. She has a lot to say when it comes to balance and living life to the fullest. Since she's also a real estate investor, I can relate.
What's one area in your life you still struggle with?
Stress. Especially when it comes to work. When there are issues, I get pretty stressed out. Though I have to remind myself, one step at a time. By taking action and doing what I need to do, I get closer to getting things done.
If you had to give just 1 tip that you've learned along your journey, what would it be and why?
Do things based on your personality, not because others are doing it. To be successful, I've learned it's very important to know who you are. We all have strengths and weaknesses. No one is good at everything. But we all are good at something. Figure what that something is and hone your skills. Don't spend time on your weaknesses because you can always find others to help. By focusing on your strengths, you strengthen your skills and get even better.
Where can readers get in touch with you?
We use Personal Capital to track our net worth. We simply connect our assets and it tracks everything for us! Our net worth, cash flow, budget, investment fees, retirement planner, and more are tracked through this site. It's completely free too! Sign up for free and receive $20 when you open an account!