Living A Better Life Interview – Apathy Ends
In our brand new interview series, we are interviewing various individuals from across the web. This interview series focuses on how they are living a better life. They can be living a better life by pursuing financial independence, minimalism, simplicity, and many more aspects. Are you interested in being interviewed? Continue reading!
Want to be interviewed?
If you want to be interviewed about how you are living a better life. Contact us at [email protected] and tell us why you'd be a great candidate!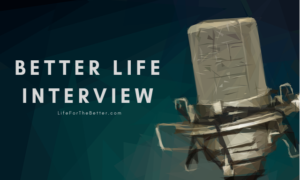 Give us your best elevator speech!
Take Action – Build Wealth. I spend a lot of time writing actionable money advice for people who want to get out of debt, improve their finances, make more money or are interested in pursuing financial independence. We have paid off over $100,000 in debt while building a $170,000 nest egg over the last 6 years while somehow managing to add two kids into the mix. Definitely on the "straight to the point" and "No BS" side of the writing world.
How are you living a better life than you were last year? 5 years ago? 10?
1 Year…Last year we were still working on paying off my massive pile of student loan debt. We started with over $85,000 over 7 years ago and FINALLY paid them off in March of 2018. Paying them off freed up over $15,000 per year (which almost covers the daycare cost for our two kids under 2). We could feel the stress melt off when the final payment was sent. I get more excited about investing over debt paydown, but this felt pretty good.
5 years….My life has changed so much in the last 5 years, got married, now have two children, changed jobs 4 times (all at the same company) and our income has doubled. We have gone from being in debt with very little savings, no emergency fund and a pile of debt to financially responsible savers.
10 Years……This is competing with my 21-year-old college self, which is a high bar. Not going to lie, a few days of only being responsible for myself sounds pretty damn good 🙂
What would you tell your younger self?
DO NOT USE STUDENT LOAN MONEY TO BUY BEER… Only half joking, because that definitely happened. My biggest money mistake was definitely the amount of student loan debt I took on, so I would have told my lazy self to work harder over the summers and take on a part-time job over the school year to reduce the amount of loans I took out. The second thing I would have told myself is to care slightly less about grades and a LOT more about networking and internships during my college career. My grades didn't get me a job, knowing the right people did.
What made you want to change the way you were living?
In 2013, when I was doing year-end taxes I realized that I paid more than $5,000 in interest on my student loans alone the previous year. We were making entry-level salaries at that time and burning that much cash on interest payments alone spurred us into action. That sent me down the personal finance rabbit hole, finding ways to pay down debt faster, saving and investing.
Does financial independence play a role? If so, how?
The rabbit hole of finding ways to pay down debt eventually led to Financial Independence, which is our ultimate goal. We are actively pursuing the FI lifestyle with two kids in tow. Last I checked we are still about 10ish years away bit are consistently looking for ways to speed that up. We aren't sure how the RE (Retire Early) part of the equation looks, but we have some time to figure that out. There is a very good chance our kids will be under 18 and still in the house when we hit our numbers so a lot of what we do will depend on their schooling and activities.
What advice do you have for others in living a better life?
A lot of my answers focus on money, but money is just a tool. A tool that can buy more time, which is why Financial Independence is our ultimate goal. My advice would be to find ways to enjoy the "now" while making progress towards big goals. We spend a lot of time focussing on today while we slowly churn towards FI. Two ways we try to make this a priority:
Work-life balance
While we strive to increase our income year over year by a significant margin, we are very conscious of the "time" cost that comes with it. We have both managed to find flexible roles, with a lot of vacation time (and yes, we use it ALL) that pay well. Could we make more somewhere else? Yes, but it's not worth it if it takes us away from our kids.
Don't skip experiences
We spend a lot more money on experiences than things and I expect that to increase as our kids grow up and family vacations/events are fun for the whole family (babies don't have fun on vacation)
What books/podcasts/blogs have you consumed that lead you to this point?
Favorite Books (or a few of them):
The Subtle Art of Not Giving a F*ck
Favorite Blogs (A few of them):
Favorite Podcasts (A few of them)
What's one area in your life you still struggle with?
Adjusting to our rapidly expanding family has been quite the eye-opener, but I am going to tie this back in to question number 6, focussing on enjoying the now. While finances can be automated, I feel like I need to continually remind myself that we don't want to rush to our long term goals. "Struggle" might not be the right word, but it takes consistent effort (especially for me, my wife is better at this than I am). I don't want to look back and wish we had done something with our kids and skipped it due to the cost. I think this a lot of people in the Financial Independence space can relate to this problem, finding the right balance isn't easy.
If you had to give just 1 tip that you've learned along your journey, what would it be and why?
Small changes matter. When we started making changes they were tiny and felt insignificant. An extra $25/month toward debt or a 1% increase in our 401k withholding every month or quarter didn't feel like a lot at the time but two things happen: The amount compounds as you earn more and you build healthy money-saving habits that grow over time. Those changes have morphed into a healthy net worth for our age and getting rid of our debt years ahead of schedule. Start now and don't get discouraged by the amounts, they have an impact, you just can't see it yet.
Where can readers get in touch with you?
You can reach me through my site at ApathyEnds.com and I am also active on Twitter @ApathyEnds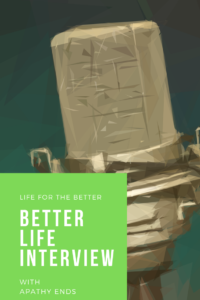 We use Personal Capital to track our net worth. We simply connect our assets and it tracks everything for us! Our net worth, cash flow, budget, investment fees, retirement planner, and more are tracked through this site. It's completely free too! Sign up for free and receive $20 when you open an account!