Living A Better Life Interview – Educator FI
In our brand new interview series, we are interviewing various individuals from across the web. This interview series focuses on how they are living a better life. They can be living a better life by pursuing financial independence, minimalism, simplicity, and many more aspects. Are you interested in being interviewed? Continue reading!
Want to be interviewed?
If you want to be interviewed about how you are living a better life. Contact us at [email protected] and tell us why you'd be a great candidate!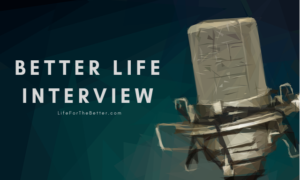 Give us your best elevator speech!
I'm a career educator. My wife and I started together as new teachers with a net worth of -$130,000 thanks to student loans and consumer debt. After more than a decade doing what we loved, our net worth was all the way up to $0! We just weren't paying attention.
Through a little focus, and fortunate timing with the economy, we made some progress. Then, for the last year, we've been heavily into FI and will be financially independent in 7 years or less.
I started Principal F.I. this fall because I see so many colleagues who can't focus on their passion because of financial stress. My goal is to help as many educators as possible to become financially independent.
How are you living a better life than you were last year? 5 years ago? 10?
We've tripled our joint income over the past ten years and even managed to have a positive net worth now. Until recently, that was mostly just a byproduct of us doing the work we love and not being entirely reckless with money. Market and real estate trends of the last decade helped too! 
Over the past year, my wife and I have become more intentional about our financial health. We have clear goals and are aligned in both our approach and outcomes. Having that significant portion of our life figured out has helped us more effectively manage work stress and focus our energy on those things that are most important to us.
As we've worked through and improved our initial plans, it's also helped us be more clear about how we want to spend our time – now and in the future. We've made giving back, both in time and money, a significant part of our goals. The financial conversations leading to life conversations really strengthened an already great marriage.
What would you tell your younger self?
You will value freedom and choice more than stuff and status.
I grew up pretty poor. I focused on the limitations that poverty imposed me. I couldn't go on the vacations my friends did, I didn't get to go to the college I wanted, I didn't have the flashy things to impress others. Consequently, I was obsessed with money. In the wrong way. I wanted money to have status and things. So, I made stupid decisions with money early and didn't really focus on anything except increasing my income. I missed lots of opportunities to save or invest.
That economic insecurity was real. But now, I really understand and value the freedom and security being in control of your finances can provide. If I'd understood that earlier, I'd be financially independent already.
What made you want to change the way you were living?
Just over a year ago I was on the verge of total burnout. I love the work I do and I'm passionate about the difference we make. I'd left teaching to do more leadership work. I knew I wouldn't enjoy it, but it was a mission-driven choice. School and district leadership matters a lot for student outcomes. It makes a huge difference for staff morale and effectiveness, too.
Stepping into those roles is important, but not easy. You lose most of the great parts of teaching while doubling-down on the negatives. That's not a whine, just a statement. I knew what I was getting into.
After a decade of it, I was running on fumes. My motivation was flagging and my life was way out of balance. What had once been a passion, was starting to feel like a grind. I hated feeling that way and was contemplating a change. Then, I found FI.
Does financial independence play a role? If so, how?
Yes! The concept of financial independence, and the resulting actions I've taken changed everything. This threads throughout my answers, so I'll try not to repeat much here.
Building a plan for financial independence has provided a "light at the end of the tunnel" and created a sense of security and control in the moment. It's both freeing and empowering, and I'm not even FI yet!
What advice do you have for others in living a better life?
Two things:
Find the part of your life that feels most out of control and focus on making a plan. In many cases, that's financial. But not always. The simple act of taking control provides immediate benefits.

 Engage your partner/family. Your closest relationships can either be barriers or force multipliers. Whatever change you're making will be improved if your family is engaged as well. And, nothing improves your life like those you love being right there with you.
What books/podcasts/blogs have you consumed that lead you to this point?
The FI journey started for me when The Automatic Millionaire randomly showed up in my Amazon recommendations. It opened my eyes to the possibility. It's not the book I recommend first to others, but it was my first. JL Collin's Simple Path to Wealth is my go-to recommendation now.
The Automatic Millionaire by David Bach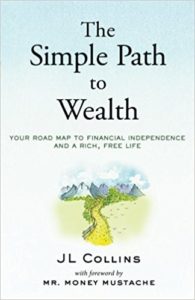 The Simple Path To Wealth By JL Collins
Believe it or not, I had no idea at all about the online FI community and blogs. After I found those, I got hooked on the Millionaire Series over at ESIMoney. For a while, it was one of my favorite Friday night traditions. I'd come home fried from work, sit down with a scotch, and read a few of those until I'd worked my way through all of them. I still read every one as released. The variety of approaches and perspectives is educational and motivating.
I also have to say ESI's no-BS message about giving, and Physician On Fire's work in the same area, have inspired me to make giving a part of our FI plan.
Current blogs I'm really enjoying both in style and substance are Four Pillar Freedom and Accidental Fire.
Atomic Habits by James Clear is the most impactful book I've read this year. I've finally made myself start getting up to work out early in the morning. I followed the habit creation steps to try and build it. Still working on that!
What's one area in your life you still struggle with?
Staying in the moment.
I've always been a problem solver and future-focused. And, I can become a bit obsessive. Those all combine to virtually ensure that I'm thinking about a future action or goal rather than enjoying any current happiness or success.
It also means unless I have a clear goal I'm reaching for, it's hard for me to maintain motivation. This shows up in exercise, for example. If I'm training for something, I stick to a schedule. If not, I slip.
I'm working to counter this by intentionally building habits and working on mindfulness. It's still a struggle.
If you had to give just 1 tip that you've learned along your journey, what would it be and why?
Fail forward.
I picked this one because I had the opposite mindset for far too long. I always wanted to be the expert, and often wouldn't do anything publicly until I'd already mastered it.
This kept me from trying so many things. I missed so many opportunities out of fear of looking stupid. It also kept me from asking for help or building community with others.
Now that I've (mostly) gotten better at admitting when I'm wrong or just trying something without being embarrassed by failure I'm much more effective and enjoy life more.
The world needs authentic adventures more than solo indomitable hero stories.
Where can readers get in touch with you?
I can be found at Educator FI and answer all email at [email protected]
I'm also active on Twitter @EducatorFI and working on Pinterest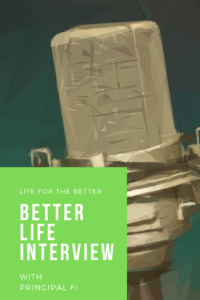 We use Personal Capital to track our net worth. We simply connect our assets and it tracks everything for us! Our net worth, cash flow, budget, investment fees, retirement planner, and more are tracked through this site. It's completely free too! Sign up for free and receive $20 when you open an account!