Living A Better Life Interview – Radical Fire
In our brand new interview series, we are interviewing various individuals from across the web. This interview series focuses on how they are living a better life. They can be living a better life by pursuing financial independence, minimalism, simplicity, and many more aspects. Are you interested in being interviewed? Continue reading!
Want to be interviewed?
If you want to be interviewed about how you are living a better life. Contact us at [email protected] and tell us why you'd be a great candidate!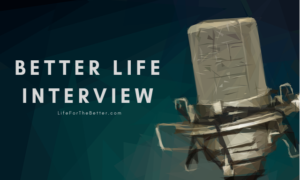 Give us your best elevator speech!
Hi friends! I'm a 24 year old living in the Netherlands, who graduated in 2017. In 2018 I started my career, but within months of starting it I was already sick of it. That's when I discovered the FIRE movement. I dove in head-first and haven't looked back since. 
A few months into my journey, I decided to start blogging. No one in my personal life has similar interests and I truly enjoy talking about personal finance. I have not regretting this decision at all, I've met the most amazing people and I love connecting with my readers. 
I hope to inspire people to start their financial independence journey, because I believe everyone can do it. My goal is to be financially independent by 35, let's do it!
How are you living a better life than you were last year? 5 years ago? 10?
10 years ago, I was halfway through high school and the great recession had just hit our family. My stepfather lost his job and my parents had just bought a house they couldn't afford. 
My parents became dependent on the government and I even borrowed them money (I was 14 years old at that time). That is what motivated me to never depend on any employer for income. You never know what will happen in the future, better take care of yourself. What happened to my parents is is a big part of my motivation for financial independence.
5 years ago, I was in university having the time of my life and not caring about the financial consequences. Luckily, I worked all through university, so I only have $19,000 of debt outstanding – which is largely due to tuition only being around $2,000 per year in the Netherlands. 
Since then my life has been getting better and better. I am getting more and more clear on my path, which I absolutely love. I have been taking care of my finances, and I hope it pays off in form of achieving financial independence.
What would you tell your younger self?
I would tell myself: "Don't worry about what other people think. Think about what you want, what would make you happy. And DON'T GET INTO STUDENT DEBT BECAUSE YOU LIKE DRINKING BEER". 
When I was younger, my mom would say to me: don't do that, there are people watching. Well that's still instilled in me. I would always worry about other people's opinions of me, while other people's opinions of me are none of my business. 
That is related to the second part, since I would always go out to party or dinner or trips. Because I didn't want to miss out. I didn't want people to think I'm boring. I didn't want to feel left out. I had to participate. In everything. 
That costed me a lot of money in the end. I go over this in more detail in my post: Money And Confidence As A Way To Living Your Best Life.
What made you want to change the way you were living?
I am working 40 hours in a job I don't like, with no real freedom to do what I want. I get a lot of energy from being around like-minded people and working behind a computer most of my days is not giving me the satisfaction that I need. 
I read about financial independence online and the idea really appealed to me. My mind was blown with the information that you could retire in your 30s! I am quite a radical gal, as the name might suggest, and I decided to go all in. 
I didn't want to live the office life for another 40 years. I want to travel, I want to discover the world, I want to spend times with my loved ones. I want to do it sooner, rather than later!
Does financial independence play a role? If so, how?
Financial independence is my ultimate goal. It will allow me to live my dream life, travel when I want, and do whatever I feel like. 
Why don't more people pursue financial independence? I am assuming that if everyone knew what financial independence really entails and how it can benefit them, many more people would dive into it. 
I believe that the journey towards financial independence entails something different for everybody, in that everyone gets their own insights from it. It's not only about financial independence. It's about doing what you love, setting priorities, slowing down, getting to know yourself better. It's about so much more than just financial independence, that's what I love most about this journey!
What advice do you have for others in living a better life?
Money is just a tool, not the end goal. Money can buy you more time and money can buy you options. Money is a great tool if you know how to use it. Know what makes you happy and spend time and money on that. 
Spend more on what makes you happy, and less on what doesn't. When I started my journey to financial independence, I really had to evaluate what I was spending my money on. When I critically looked at my expenses, I saw that most of the things I spent my money on were not important to me. 
Now I know perfectly what makes me happy – that's why I'm going on a 3-month mini-retirement with my partner. We're going to travel Central America and I couldn't be more excited. Spending time with my loved ones and discovering new places are two things I value in life, so I'm spending my time (and money) doing that.
Will it slow down my timeline to financial independence? Probably by a few months. Is that it worth it to me? Yes, absolutely. The journey for me is finding out what's important to you and making that a priority in life. That way, you will be happier than ever before!
What books/podcasts/blogs have you consumed that lead you to this point?
The first book that I read that talking about financial independence is Rich Dad Poor Dad by Robert Kiyosaki. I'm sure you've heard about it, it's a great book! It was shifting my mindset in the first part of the book, where they teach some basic principles like: it's not about how much money you make, it's about how much money you keep. There are many basic financial concepts explained in the book, that are very applicable to everyday life. 
Other great books:
For blogs, I started out with Michelle's blog from Making Sense of Cents and afterwards I learned about Mr. Money Mustache and his shockingly simple math behind early retirement. MMM really drove me to the point where I thought: I can do this, this is basic economics. Why haven't I thought of that? Michelle's blog has motivated me to start my own blog, which is something I'm extremely grateful for!
What's one area in your life you still struggle with?
I'm still someone who wants to join everything, participate, and learn everything. I'm all over the place and I can have a hard time staying focused. I have these energy outbursts that make it hard for me to focus on tasks at hand. Working for long uninterrupted time intervals can be challenging for me.
Funny enough, when I'm writing I don't experience this as much. I'm in the zone and I'm writing, thinking, and staying focused. Every morning I wake up at 6am so that I can start my morning writing, that's what sets me up for success and how I'm trying to improve!
If you had to give just 1 tip that you've learned along your journey, what would it be and why?
Ask all the questions! I always did everything according to the book. Get good grades, go to university, get into a field with good job prospects, get a good job. I never thought there was another way to do it. 
When I started to ask questions, I noticed that many people didn't have the answers either. I took the matter into my own hands and started to ask the questions to myself. What do I want? What makes me happy? Where do I want to be in 5 years? 10 years?
Too many people are living their life on autopilot They are physically present, not mentally. If you want to become like them, you should follow their advice. If you want to be different and live life on your terms, ask the questions. 
You don't want to wake up one day, wondering what happened with your life and how you could let it pass by like that!
Where can readers get in touch with you?
You can find me on my blog Radical FIRE or sent me an email over at [email protected].
Of course, I'm also hanging out on the social: 
Please reach out to me or comment below on the blog, I love to connect!
We use Personal Capital to track our net worth. We simply connect our assets and it tracks everything for us! Our net worth, cash flow, budget, investment fees, retirement planner, and more are tracked through this site. It's completely free too! Sign up for free and receive $20 when you open an account!