Wedding Hacks With Your Guests In Mind
As you may know, by now, we are having a "destination wedding" at our current location. Our family and a few close friends are flying in to celebrate with us.
Since we are getting married exactly 71 days after getting engaged, we know it's a lot to ask our family members to come all that way on such short notice.
That being said, and since weddings are expensive AF, to begin with, we are trying to make it as budget-friendly as possible – both for us and for our guests.
To preface, round-trip flights from back home are well under $500/person, but we are aware that not everyone has a travel account with money for a surprise trip. Our loved ones are mostly coming in on Thursday night or Friday morning. Our wedding is on a Saturday. We think each individual can likely keep their costs under $600 total. Here are the ways we are trying to help them attain this:
We shopped around and showed up at area hotels to find the best value for the nicest room. We offered three hotel options on our invitations with a $75-$125 range. All of these lodging locations have continental breakfasts (1 meal down, 2 to go).
We connected a few friends in our wedding party who were traveling alone so they could share a room and split the cost.
Our bridesmaids are wearing their favorite (new or old) little black dress. Normally, the biggest tragedy in buying a new bridesmaids dress is it will cost you a fortune and you will likely never wear it again. With an unconventional approach like this, each woman can spend what is affordable for her on a dress that she feels amazing in and will definitely wear again.
Our groomsmen are wearing black pants and a white collared shirt. We bought their suspenders and bowties. Pretty sure every guy's got that outfit in his closet, and if he doesn't, he should. No need to rent a tux or any of that stuff!
We are splurging a bit and inviting everyone to a casual Groom's Dinner. That's one meal less for each guest to pay for (2 meals down, 1 to go).
We are getting married in the afternoon and having lunch immediately following the ceremony, and a post-reception meal that we are covering as well. We were reluctant but grateful that our parents on both sides offered to pay for one of the three meals. This means we are paying for one of the three meals between Friday and Saturday (3 meals down, 0 to go).
Car rentals here are cheap and should cost each guest (although many are splitting cars) anywhere from $50-$100 – including gas – for their entire trip.
We are renting an AirBnb for the groomsmen and a hotel suite for the bridesmaids to share on the Friday night before the wedding. That's one less hotel day each of our wedding party members needs to pay for.
"Your presence is a present." We are asking for no gifts because quality time is so much more important to us. (And girls & guys, we have a TINY HOUSE. Where would we even put anything?)
We value experiences, which is part of why we are having our wedding away from home. A few of our family members are actually taking advantage and turning it into an extended weekend vaca, which is exactly what we want them to do! 🙂
Overall, we would rather pay a little bit more out of pocket to make it possible for our guests to have a good time and not feel like they need to break the bank to attend our wedding. We'd like to keep it simple and that will create less stress for everyone (the bride and groom included 😉 ).
What wedding budget hacks have you seen or found in planning your own wedding? We'd love to hear and would also love to add to our hacking list!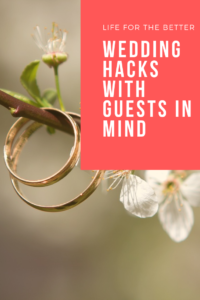 We use Personal Capital to track our net worth. We simply connect our assets and it tracks everything for us! Our net worth, cash flow, budget, investment fees, retirement planner, and more are tracked through this site. It's completely free too! Sign up for free and receive $20 when you open an account!