Sunday Sharing Vol: 19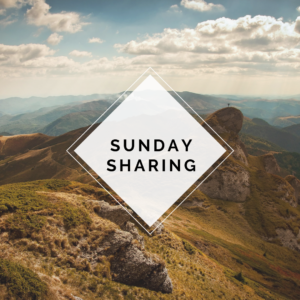 Each Sunday we post interesting articles, videos, podcast episodes, and more that we've consumed from across the web. We'll give our thoughts on what we've learned through others in Sunday Sharing.
What We're Reading
The Happiness of Pursuit by Chris Guillebeau
Articles / Blog Posts
Although this fundamental financial truth is obvious to me now, I'd been blind to it before. But once you see it, you can't un-see it. It's not as complex as I had once believed, and with a changed belief system in place, new possibilities were born.

Taylor and I have started looking for other aspects of our life where we can apply this lesson. What other seemingly complex issues do we avoid in our daily lives? Are there simple solutions to these problems that have perhaps been overlooked?
Out of this tracking, 3 main things stuck out to me:

My spending was much lower than usual
The amount of waste I accumulated was much less
I was consistent with my workouts and my level of fitness rose considerably

Below I touch on these three points in more depth.

The overarching main point in all of this is how much more in-tune you are with your actions when you start to track. Instead of just blindly getting a coffee at Caribou or an extra snack at the grocery store, when you track everything you realize just how much everything adds up.
The equivalent thought experiment in personal finance might be:

If you're an individual and you ignored your goal to accumulate $1 million and focused only on growing the gap between your income and your expenses, would you still get results?

I think you would.
Articles We Posted
Meal prepping is efficient. It saves us time throughout the entire week. We can spend two hours cooking our lunches and dinners at the beginning of the week or spend 30-45 min per night (dishes included) making these meals.

That is 30 minutes per meal 3 times a day = 90 min a day for 5 days = 7.5 hours per week. That saves us 5.5 hours each week that we can allocate doing whatever we'd like.

A few of our meals are made in a slow cooker. Fifteen minutes are spent preparing the dish and 4 hours later we have a set of delicious dinners.
What advice do you have for others in living a better life?

It depends on the situation – I would say think about your goals, dreams and find what makes you happy and then strive for that – Make it work. A lot of people say they can't progress in their career or have a hobby because of children or something but there's a saying that 'Where there's a will there is a way' – You just have to find it and make it happen.
Send us your material!
Feel free to send us articles, videos, podcast episodes, etc. that you've enjoyed. It can be from your own works of art or from someone else's. We might even feature your material!
Check out former Sunday Sharing volumes here!
We use Personal Capital to track our net worth. We simply connect our assets and it tracks everything for us! Our net worth, cash flow, budget, investment fees, retirement planner, and more are tracked through this site. It's completely free too! Sign up for free and receive $20 when you open an account!