Living A Better Life Interview – Robert at Real Money Robert
Living A Better Life Interview –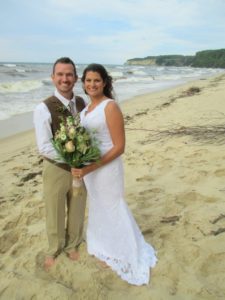 In our brand new interview series, we are interviewing various individuals from across the web. This interview series focuses on how they are living a better life. They can be living a better life by pursuing financial independence, minimalism, simplicity, and many more aspects. Are you interested in being interviewed? Continue reading!
Want to be interviewed?
If you want to be interviewed about how you are living a better life. Contact us at [email protected] and tell us why you'd be a great candidate!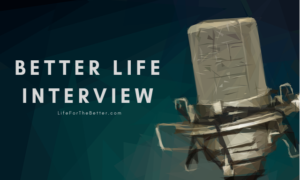 Give us your best elevator speech!
So, I really despise elevator speeches. I don't think that an elevator speech gives adequate time to properly give people the time and attention that they deserve.  You know, allowing follow-up questions and interacting, etc. etc.
That being said, I'll give you a little background about me and how I got to where I'm at now.  I grew up pretty poor, with my parents working multiple jobs to make ends meet.  As a result, I became very independent and learned how to handle problems on my own.
Fast forward a bit and I was a 17 year old with a new baby and a new wife. Crazy stressful, but I worked 3 jobs while my then wife was getting her college degree, had 2 more wonderful children, and completed my college degree, all while working full time.
Then came the divorce, which was ugly and long, but I got through it.
Recently, I've remarried and gained 2 amazing stepchildren as well! Oh, and 2018 is also the same year I decided to start blogging and launch a business, so it's been a little hectic around my house this year!  As I said, I hate the elevator speech, so feel free to ask me some questions and get to know me a little better!
How are you living a better life than you were last year? 5 years ago? 10?
Let's start with the last year…. A lot has happened in the past year.  In January, I launched my blog where I've been committed to helping people avoid the financial mistakes that I made throughout my late teens and twenties.
Then, I launched a digital marketing company, where I focus on helping businesses generate more sales and more customers through the power of effective advertising.
Finally, in September I married my beautiful supportive wife and couldn't be happier!  I've also made a commitment to be more involved than ever with my kids' extra-curricular activities.  In fact, I volunteered to coach two of their sports teams this past year and it was a great feeling to be out there on the field helping them out!
From 5 years ago, I am making way better life and financial decisions. I was still married to my ex at that time and in a toxic relationship, up to our eyeballs in debt.  We had to file bankruptcy through the process of the divorce and ever since I've been on a mission to no longer be enslaved by the grips of debt.  It's been going great so far!
10 years ago I was a 20-year-old who was just about ready to have his second child. I was working way too many hours for not enough pay, but I was doing what I needed to do to support my young family.  Looking back, I realize that I missed out on some important things in my childrens' lives because I was working so many hours.
Luckily, I realized that pretty quickly and corrected action so that I can spend as much time as possible with them as they continue to grow up and prepare for adulthood.  I can't believe I'm saying that, but my oldest will be a teenager in a couple short months!
What would you tell your younger self?
Prioritize things that are important to you. Make the most out of the time that you spend with loved ones. Most importantly, I'd tell my younger self to stop living to please everyone else around you.  I spent so many years trying to make everyone else happy that I lost sight of the things that were important to me and that I valued. If I could go back and tell myself one thing, that's what it would be.
What made you want to change the way you were living?
As I said above, I had an epiphany that I was doing way too much for everyone else. I came to the realization that putting everyone else's wants, needs, and happiness above my own was not leading to a path of happiness for myself.
I knew that I needed to make some major life changes to get me to a place where I was happy and comfortable with who I was. Hard decisions had to be made, but they were decisions that were best for everyone involved, especially myself.
Looking back on it now, I sometimes wonder why I didn't make this change sooner.  Life has been so much better and I've been so much happier since I decided to prioritize the things that are important to me.
Does financial independence play a role? If so, how?
It does. Before my divorce, we had so much debt, but we were making all of the payments and if you'd have asked me at the time, we were not struggling financially. However, looking back on it now, I know that is a load of crap.
I was constantly stressing about the tens of thousands of dollars in credit card debt, working to pay stuff off, just to rack up more debt.  For what?  We had nothing to show for it.  I'm glad that I came to the realization that I needed to make major changes in my financial discipline and I'm so happy that I did.
Although I'm not financially independent yet, it is one of my goals, and my wife and I are working hard to get to the point where we can live completely debt free and enjoy the ability to have more freedom with the activities we choose to do and the things we choose to spend our money on.
What advice do you have for others in living a better life?
This is a hard question to answer because every single person is a unique individual, with unique wants, needs, and requirements. A better life looks different to people who are in different situations.
However, what I will say is that each person should take a step back from being entrenched in the day-to-day.  Step back and look at the bigger picture.  Ask yourself what is really important to you.  Is it your career, your family, financial freedom, etc? Figure out what things are important to you and then start to rank them.
Then, take a look at your current situation and see if what you are currently doing aligns with the things that you hold important. If it does, then great, keep doing that!
If not, evaluate what needs to change and implement goals that will get you to where you want to be, so that you are spending your valuable time and money prioritizing the things that you hold dear.
What books/podcasts/blogs have you consumed that lead you to this point?
This could be a really long list, haha. Let's start with blogs.  I owe most of my personal finance wisdom and the motivation to turn things around to Bobby Hoyt over at Millennial Money Man.
I've been following him for a couple years and he has motivated me in more ways than one to get my finances where they need to be, crush my debt, and increase my income.  This formula has been paramount to my financial success over the past couple of years.
As far as books go, I recently read "The Subtle Art of Not Giving a F*ck" by Mark Manson and I was blown away.
It basically wrapped up all of the thoughts and actions that have been taking place inside my head over the last couple of years into a nice little package. It epitomizes the thought that I have about no longer putting others needs in front of my own and instead of caring and prioritizing the things that matter and the things that are important to me.
With podcasts, I'll be honest, I am not a huge podcast listener. In fact, up until about 6 months ago, I had never even listened to a podcast.  If I had to choose one, it would be the Laptop Empires podcast, with Bobby Hoyt and Mike Yanda.  These guys are down to earth and they tell it like it is.  Oh, and they both really know what they are talking about and it's super relatable for me.
What's one area in your life you still struggle with?
Honestly, right now I feel like I am in a really good place. I don't have many struggles at the moment.  However, if I have to choose one, I'll say time. I have put a lot of things in place to manage my time effectively, and it's done wonders for me, but with 5 kids, a blog, a new business, and my full-time job, it's sometimes difficult to juggle everything.
I live and die by my schedule.  Which honestly is a really good thing.  If I didn't, I wouldn't be nearly as productive as I am, and I'd be wasting time instead of utilizing my available time effectively so that I also have time to spend on my most important priorities, spending time with my family!
If you had to give just 1 tip that you've learned along your journey, what would it be and why?
Be yourself and do you! If I've learned anything through all of my hardships and all of my experiences, it's that there is only one person that's looking out for your best interests and that's you.  So do your own thing, don't worry about what other people think about you, and go out and be happy!  You deserve it!
Where can readers get in touch with you?
You can check out my blog.
Follow me on Twitter @RealMoneyRobert
Check out my Facebook page for Real Money Robert
Check out my Facebook page for Gale Force Marketing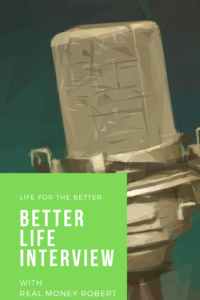 We use Personal Capital to track our net worth. We simply connect our assets and it tracks everything for us! Our net worth, cash flow, budget, investment fees, retirement planner, and more are tracked through this site. It's completely free too! Sign up for free and receive $20 when you open an account!