Pros and Cons of Living In A Tiny House
It's debatable whether living in a tiny house is actually better than a traditional house. We discuss the pros and cons of living in a tiny house.
Ultimately each person is going to have a different viewpoint based on what suits his or her needs. Just like the debate with renting versus buying, the situation dictates what is "better."
Let us know if you think living in a tiny house is better or worse than a traditional house! We'd love to hear your opinion!
PROS
You can travel with both your house and belongings
You aren't tied down to one location. So far, we've moved the tiny house more than 2,000 miles, four different locations, and are set to move again in a few months. This allows us to eliminate the daunting task of packing from our "to do" list when we move. Last time I checked, you can't do that with a house.
The price is right
Tiny houses range from 20K for a DIY project to 60K for a decent tiny house. Some can go higher in price, though. At this price point, it's great to get into tiny house living versus a 100K to 200K priced house. You could be mortgage free right as you move in! Save all that extra cash for travel or retirement.
Low cost of living
We currently pay $240 for our rent. Electricity is $40 a month (which includes cable, which is part of the package), so our total is $280 for water, sewer, garbage, internet (if we go to the clubhouse at the RV site), TV, and yard maintenance. This brings our cost of living down considerably compared to a traditional house mortgage and other monthly costs.
Our cost of living for food also goes down. We don't have that much space inside our 269 square foot living quarters. This forces us to be deliberate when picking out meal plans for the week before we go to the grocery store. One could just as easily do this in a traditional house, but the lack of space forces us to do so. We don't have a lot of extra "pantry" space to collect cans that sit in there for ages.
Choose to declutter your life
Living tiny allows you to practice minimalism. You get to actually enjoy the possessions that mean the most to you due to the lack of space inside. One cannot have very many things, otherwise the clutter and possessions will take over. Also, how can one possibly enjoy that many possessions? I've found myself playing more guitar than before because it's an item that I truly enjoy using. If I had five or six other items I enjoyed, I'd have to split my time with each possession, thus lessening the time spent on the one object I truly enjoy.
Cleaning is less time consuming  
Cleaning a 269 square foot house takes considerably less time than it would in a 1000+ square foot house. This extra time (not spent cleaning) can be used for family time, going to the gym, reading a book, blogging, playing guitar or another instrument, and any number of things. If you value your time at $20 an hour, this would be a savings of $1,040 per year. Imagine what you could do with that extra cash! Or even the time saved to invest in your personal growth or making more money elsewhere.
Go outside and enjoy life
We have been forced to go outdoors and thrive in the space around us after living tiny for almost a year. We don't like being cooped up all the time, so we take a step outside to enjoy the fresh air and do activities. Again, this can be done in a traditional house. However, there is more room to live in a traditional house versus a tiny house.
CONS
Kitchen space is limited
Having a smaller kitchen isn't always the best thing in the world. This forces you to get creative with your space, especially since we love to cook homemade meals. Cooking at home for most meals gets to be overbearing at times because of the lack of room in the kitchen.
No space to entertain
We love to host friends and get together with others. This becomes challenging in a smaller place because where does everyone sit? Not having the adequate space to host can start to take a toll on your social life by always having to go out to restaurants, bars, or even your friend's place. It is do-able to host in a tiny house but, only small amounts of people at once.
Storage is limited
While it's nice to be a minimalist and all, there are some items that are needed for seasonal use – from winter jackets and boots to summer gear. We'd love to get paddle boards or kayaks but we don't have space for them. This limited storage could be solved with a storage shed that we could put outside.
Some traditional house "problems" apply
While we don't have to worry about landscaping or cleaning gutters, we do get frozen pipes when the temp dips low. This probably doesn't happen nearly as often in a traditional home. Our fix is to either wait until it warms up or bring the hose inside and manually unclog it in the shower (not exactly our idea of a fun morning).
One could sidestep this problem by having a heated hose!
On the rare occasion, you want to, you can't hide
Okay, we have all been there: someone knocks on your door and you just got out of the shower or you're not presentable for some reason or another…so you tiptoe around and make sure you can't be seen through any windows. You cannot hide when you live in a tiny house in moments like this. There just aren't places you can tuck yourself behind.
You also can't hide from your significant other. There really isn't a whole lot of room to be just by yourself. As an introvert, I like my alone time. L is an extrovert and wants to always be doing something or near me. This can start to feel congested at times without the ample space to function.
Depreciation of value over time
The value of a tiny house is a lot like an RV and the price will go down over time, even if it is a "fad" or "trend" right now. The price will go down. We don't know exactly how quickly the depreciation takes place, but if the price goes down from $50K to $30K but you stay in it for multiple years, did you really lose out on that much?
We hope these pros and cons can help you decide if living in a tiny house is better than living in a traditional house. It's really up to you to decide what is right for you. What is better for one person may be worse for another. That's okay! We all have our own wants, needs, and desires. For now, tiny house living is right for us and is making our lives better.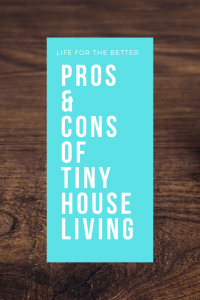 We use Personal Capital to track our net worth. We simply connect our assets and it tracks everything for us! Our net worth, cash flow, budget, investment fees, retirement planner, and more are tracked through this site. It's completely free too! Sign up for free and receive $20 when you open an account!