My Proposal: A Wedding Under $5K
In college, I wrote an article about doing a wedding on a budget with help from DIY projects. One person I interviewed excitedly told me that she and her husband did their entire wedding for under $10K. At the time, that didn't mean much to me because I had no idea that a wedding could cost so much!
Set a Budget & Be Resourceful
As Tim and I started preparing for the big step into married life, we talked a good deal about budgeting. Tim would be happy with a quick trip to city hall for our ceremony. I am not on board with that, but I also don't require a big show or parade. We compromised on a small destination ceremony near our current location with only family and our wedding party – at or below $5K in cost.
There certainly are crafty ways to go about sticking to a budget and most of them are about using your resources.
To begin, I polled my friends on Facebook asking for one thing they liked about their wedding and one thing they would have changed looking back at it.
I got a TON of responses. Getting a videographer, DJ and choosing delicious food were high priorities on most of the responses.
Overall, I got a loud and clear message: get a good photographer! Uh, already knew this since it's my side hustle. Nearly half of our budget was already going toward a fantastic photographer friend of mine who gave us a price break because he loved the location.
***USER TIP***
There is never harm in negotiating with someone who does freelance.
You can also offer an exchange of services if you sell Pampered Chef or in my case, I'll negotiate with my side hustle. But make sure you know they do good work!
Having been on the receiving end of such inquiries, I have worked with friends who wanted to stay under $1000, by offering shorter timeframes that only included the ceremony, group photos and maybe the reception. (Tip: You don't need pictures of the reception. This will cut the cost of the photographer.)
Choose Multi-Purpose Decor
Many of my friends in my unofficial poll reflected that little details like centerpieces and decor were unimportant. Tim and I didn't discuss centerpieces since I naively thought it was a given, until I made decisions about them and he went, "What centerpieces!? We don't need those." I apologize for this sexist comment in advance: "You are a guy. Yes, we need centerpieces." Men!
We compromised, agreeing that centerpieces needed to be intentional/useful post-wedding, and low-cost (but not too cheap).
They will include photo frames that double as gifts to our grandparents. We are putting the bridesmaids' bouquets (made of paper flowers that will never wilt) in the center of each reception table, so they'll do double duty.
In total, five bouquets, including mine, are handmade and under $100. Most bridal bouquets I found online were $75+ (insane)!
Find a Low-Cost Venue
I have been convinced for a long time that there's a way to get a venue for cheap, since it's normally the biggest expense, along with food. But I had not yet solved the quandary…until now!
We are getting married at a beautiful park that cost us $50. Yes, you read that right: Our venue cost us just fifty bucks!
The food is coming from a delicious, reasonably-priced restaurant that requires us to pick up the food (no on-site caterer means more $$ in our pockets)!
There are SO MANY little expenses in between that I did not anticipate. Like a LOT. Good thing we cushioned our budget! There are more numbers to crunch and details to solidify still, but so far, we are on track.
Don't hire a DJ
We simply had a playlist of music on our phones and paired it up with our Bluetooth speakers. On Google Play Music you can find music by searching wedding songs that have various classics like the "Chicken Dance." We just hit play and called it good.
Create your playlist ahead of time and this will allow you to hit shuffle and move on with the day. There is no need to hire out a DJ to do the same thing.
Go on Youtube or Spotify and do the same thing. We found that most people didn't really care what was playing.
We had a friend in charge of the music in case anything went wrong with the sound or if a song needed to be changed for some reason.
Use Multi-Purpose Outfits
We had simple outfits for not only ourselves but for our wedding party as well. We told the girls to wear their favorite black little dress because they would end up using this again for another event later on in life. We told the guys to wear black pants and a white shirt. What guy doesn't have this? And if they don't that's fine too because most events in life a guy could wear that and be just fine.
You don't need to go buy brand new things for one day. This starts to add up quickly to your costs. Minimize them by being creative in various ways like this.
Buy Your Own Booze
We went to the liquor store and loaded up on various beers and wines for the wedding. This is much cheaper than hiring out a bartender and paying them. Or have your guests pay for each drink.
We even bought cases of water to couple the booze or if people didn't want to drink. a $2.50 a case for water we could handle that tab!
Limit Your Guests
Limiting our guests to our wedding wasn't easy because we both come from large extended families. However, we wanted something small and intimate and limited it to 40 people max. This kept our costs down from the food, booze, table & chair rentals, etc. etc.
While some may disagree with us that limiting your guests could be negative to your guests or have hurt feelings, we disagree. We think that if you let people know your situation they are understanding if the circumstances. It also gave us an opportunity to call each family member and let them know what was going on.
Everyone who we talked to said that's completely understandable that you want something small and intimate. This allowed the family members that were there time to talk and interact with one another. It felt like a true coming together as a family moment.
What tips and tricks do you have to keep wedding costs down? Let us know!
Stay tuned for the full report of expenses after we are officially Mr. & Mrs. Life For The Better. 😉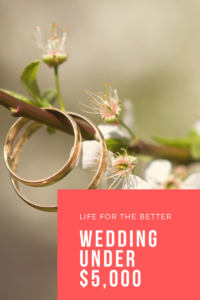 We use Personal Capital to track our net worth. We simply connect our assets and it tracks everything for us! Our net worth, cash flow, budget, investment fees, retirement planner, and more are tracked through this site. It's completely free too! Sign up for free and receive $20 when you open an account!