Pack Your Bag Light & Your Heart Full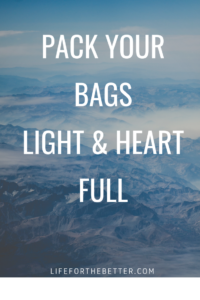 "No bags to check. Just this carry-on."
I used to be like everyone else at the airport: arms overflowing with luggage like a camera bag, giant suitcase, purse, carry on item, water bottle, neck pillow, a bag of souvenirs recently purchased, etc. What a pain in the neck – literally! But yesterday as I returned home from a 3.5-day trip with my extended family, I felt pretty smug as my family members waited a full 30 minutes for their checked bags to show up on the conveyor belt in Baggage Claim. In the time while I waited for them, stress-free, I had nice conversations and met three people, finished the last chapters of my book, and caught up with texts. It's obviously time-consuming and exhausting getting off a plane after a long day of travel, only to wait for your bag, hoping the one moment you're not looking is not the moment when your suitcase barrels by. No thanks. I'll pack my bag lightly from now on. A suitcase with wheels is not how I roll anymore.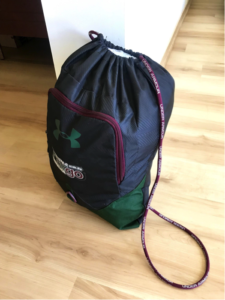 Pack Lightly & Tightly
When Tim and I travel – be it by plane, train, or automobile – we pack intentionally. We each pack one bag for carry on and may carry a water bottle and book (or earbuds, for him). That's it! For this trip, I also brought my neck pillow, which fastens with a button between the strings on my bag. Easy.
First, I made a list over the course of several days (you'll think of things you forgot after your first draft). Since this trip, in particular, had no itinerary except for one formal event, I made versatile clothing selections – pants that could look formal or casual and tops that matched each other. I rolled all of my clothing tightly and laid it out before putting each piece into my bag.
If you bring another pair of shoes (or two – which should be rare), put them in a plastic bag at the very bottom of the bag. Bring a second plastic bag for dirty clothes. Tuck your unfolded socks into or in between your shoes to save space.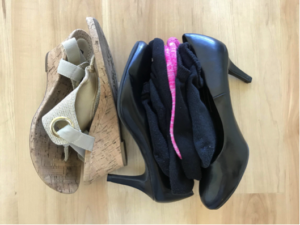 In my drawstring backpack, I was able to fit: 5 tank tops, about 4 pairs of socks, 2 pairs of shoes, 2 PJ shirts, 2 pairs of sleep shorts, 2 pairs of pants, 2 formal tops and 1 casual top, 1 long sleeved shirt, 1 little black dress, undergarments, a swimsuit, toiletries, a small makeup bag, and snacks.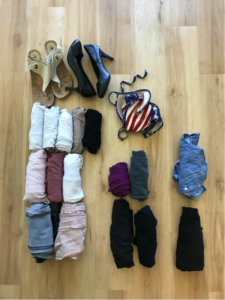 Be an Intentional Packer
Pack toiletries lightly and last. Put them on the top layer of items in your bag in case you need to take them out at security checkpoints. Any time I stay in a hotel and like their complementary body wash products, I take them with me. They're tiny and make packing for your next trip very easy. Ladies: Only bring one small makeup bag. Pick your staples and use your lipstick as your blush (you know the trick)! In case you don't travel frequently, your razor will get through security with your carry on. I've never had issues with this.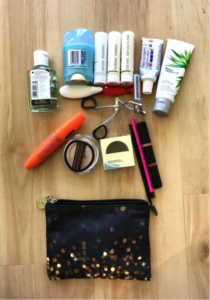 Snacks and other small items will squeeze nicely into the crevices that are unfilled in your bag, or in your front pocket – take a bag with pockets! I lay out my snacks, too. I go for LaraBars or Epic bars, which are healthy in comparison to other options and keep you full, nuts in a Ziploc baggie, fruit strips, and raisins. Don't get food at the airport or truck stops, where it will be far more expensive and far less substantial than anything you can buy ahead of time.
How many times have you heard yourself saying "Oh, I'll bring this just in case!"? Whenever I bring that "just in case" item, I rarely even use it. It ends up just sitting in my bag, taking up space, and weighing me down. I've since told myself that if I truly need an item, I can go out and buy it at my destination while I'm getting groceries instead of eating out. If I'm at the airport and think "SH*T!" I can simply go on Amazon and 2-day ship it to my location. It's as easy as that.  
Comfort Matters
Travel in sneakers. Wear a dry fit shirt and your bulkiest long-sleeved top or hoodie (one less thing to take up room in your bag). Workout shirts are easy to wash, dry, and wear again if needed. They'll also feel less nasty if you're sweating in them after a long day of travel. I always wear yoga pants on travel days because of comfort matters to me. I use the same outfit traveling to my destination as I wear on my trip back.
Don't buy or pack stuff you don't need
Tim and I don't buy souvenirs on trips. We would both much rather spend our money on experiences over shot glasses that our family members will never use. I recall him saying once about buying a t-shirt: "Why would I want a t-shirt connected to your memories? If I'm getting a shirt, it's going to be for me."
There you have it! Pack smarter. Save yourself time waiting for luggage. Save yourself money on pricey airport or truck stop food. Save yourself the hassle of the suitcase haul. Skip the cheap souvenirs. Just pack a carry-on and go! It will make your trip – and life – that much better.
We use Personal Capital to track our net worth. We simply connect our assets and it tracks everything for us! Our net worth, cash flow, budget, investment fees, retirement planner, and more are tracked through this site. It's completely free too! Sign up for free and receive $20 when you open an account!