10+ Things We HATE About Living in a Tiny House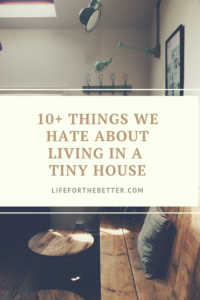 We love living in a tiny house for many reasons. From all the pictures you see of tiny houses online, they're effortlessly clean, probably color schemed by Chip and Joanna themselves, and made to look like heaven on earth, right? Wrong. There's a lot more to it than the beautiful photos you see. You see the images of tiny living at its best. But there are downsides to a small space that are invisible in those shots – except to the user(s).
Small kitchens are not user-friendly
We love cooking, baking and meal prepping. In order to do any of the above in a tiny house, we have to cook one or two items at a time and be very intentional about how the countertop space is used. Our entire countertop is about 3 ft. x 3 ft (above the washer/dryer). It's also very hard to bake anything substantial in size because the oven is too small. If we bake banana bread, we have to rotate it in the oven midway through, otherwise it won't bake evenly. We can literally fit five cookies in the oven at a time (but luckily we enjoy eating the dough, so that is a solution 😉 ).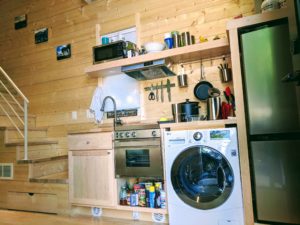 Inviting friends over is difficult
We want to get together with friends and host once in a while. But unless it's nice enough outside to eat at the picnic table, we really don't have space to fit more than two people comfortably at one time.
You can't accumulate piles
With limited space, we can't have "pending" piles like mail, projects, etc. sitting out, or it is an eyesore and stressor. This eats up valuable space that's used for cooking and other projects. Each sq. ft. of the 269 is valuable!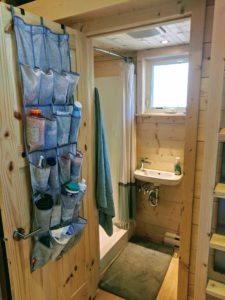 Our bathroom is too small
For the females out there, kiss your vanity goodbye! Literally. If you need to use counter space for makeup, try the lid to the toilet. That's about all you get. Also, our entire bathroom mirror is the size of your vehicle's rearview mirror.
Getting ready in the morning is sometimes like a dance. There's only enough space for one person comfortably at a time, but when you both are getting ready… get ready to tango.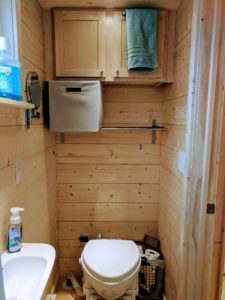 Composting toilet maintenance is consistent
We decided not to have a black tank for our human waste and went the composting toilet route. The downside to this is the liquid compartment only holds two gallons. This means we are frequently dumping — the liquids, that is (poop joke, everyone!) — down the sewer. It's not the end of the world, but the smell that comes out of it isn't pleasant either.
Tim empties the compost toilet (this makes up for an unnamed leaky gas source…almost), and overall, that has been a seamless experience for me – the female – as a user. I was nervous about how that would work for a woman specifically, but it's been easy.
There's limited storage for seasonal items
We come from a part of the country that has all four seasons. Seasonal clothing is essential, but there is not a lot of room for it in the tiny house. Tubs of clothing waste space that we could use in more valuable ways. We have used storage underneath the bed as a backup though.
We can't easily change the layout / rearrange
In a normal house or apartment, one can rearrange the layout of the bedroom or living room fairly easily. With a tiny house, the layout you have is the layout you get. One can buy certain multipurpose items but the purchases need to be intentional and thoughtful, otherwise space starts to disappear quickly. We have discussed adding shelving units to the tiny house but that only leads to having more items in the house to fill the space. Less stuff, more life!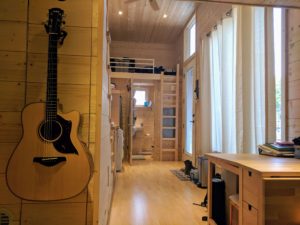 Cleaning the place is quick but frequent
Even when we are both careful not to walk on the floor with shoes on, less square footage means you're treading the same area daily. It has to be cleaned every other day or so, but on the bright side, it doesn't take very long to sweep and swiffer less than 200 sq. ft. of flooring.
Garbage and recycling space is limited
Traditional houses have plenty of space in the kitchen to have bigger garbages and a section for recycling. However, in a tiny house, this isn't always the case. We have a smaller garbage and then a small area for recycling (which fills up very quickly).
Making the bed is a gymnastic event
When we make the bed, the ceiling overhead is so low that it requires bending down consistently while trying to put the fitted sheet in the smallest of small corners. Just give us the gold medal already!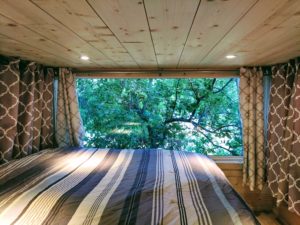 Sometimes you need "personal" time (especially for introverts)
Tim is an introvert. He tends to need space a bit more often than I do (as an extrovert). He escapes to the loft/bedroom or sometimes retreats outside for alone time. A small space also makes it hard to have a quiet or personal convo on the phone. My mom called the other day and I mentioned that Tim was sitting next to me. She feigned surprise and her wacky response sums it up: "I thought you'd be in the refrigerator…the only place you can be alone."
If the weather is bad outside, you're forced inside
We both like to get out and moving, whether it be a run, a bike ride, or a hike. If the weather doesn't allow for outdoor activities, we are forced inside. This can be said of a regular house as well, but the size is the issue. When the weather is bad for a few days, we tend to get cooped up and want to leave to do anything away from the house.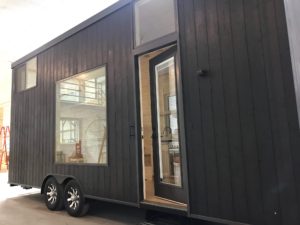 A tiny house requires a big truck
Having a tiny house on wheels means we need to have a truck big enough to tow it. While a truck is fun to drive, filling up the gas tank at 8 mpg while towing and 12 mpg in the city is not fun (granted the truck is a Chevy 2500 and holds its value over time). We'd rather have a smaller vehicle with better gas mileage.
Everyone wants to check it out
A tiny house is the new shiny object in the room (er…parking lot) and everybody wants to see it. This can be fun but also waring sometimes. We live in an RV park, which means we frequently get new neighbors. Some stay for a few months while others only stay for a night or two. This neighborhood traffic makes for more eyes on the tiny house while we just want to sit outside and relax alone.
During road trips with the tiny house, we are the entertainment for others on their drives, and that part is kind of neat. But onlookers want to see the inside when we stop for gas. They want to know everything about the tiny house. They sometimes even invite themselves in with their phone ready to take photos (please don't be that person, just ask nicely and don't be weird). However, at times this makes for good conversations about "going for it" and "living life." Other times it's better to just gas up and go quickly instead of giving the tour of our home.
Like anything in life, tiny living has its pros and cons. The grass is always greener on the other side. There are perks to this lifestyle as well, but that's a topic for another post. Could you go tiny? If you're already living tiny, what are the cons you've noticed?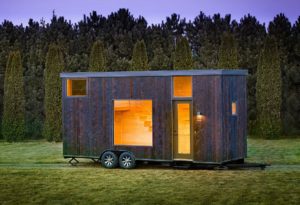 We use Personal Capital to track our net worth. We simply connect our assets and it tracks everything for us! Our net worth, cash flow, budget, investment fees, retirement planner, and more are tracked through this site. It's completely free too! Sign up for free and receive $20 when you open an account!