What We've Learned About "Going Tiny" So Far

You've seen the show: Tiny House, Big Living. You've seen the Instagram posts, the pictures online, and maybe you've even seen one in person (although we have learned that they are quite rare, making for an unintentional spectacle). You have concluded, maybe even hastily, "I could never do that!" or "I would love to do that!" Either way, the lifestyle change of going tiny looks like a drastic one and may seem a bit formidable. Could Tim and I do it? We wanted to find out! (Yeah, we can do it 😉 )
After careful consideration, lots of research, and number crunching, instead of asking ourselves if we could or couldn't do the whole "tiny living" thing, we went for it. Tim has been living in the tiny house for just over two months so far. I have visited and started downsizing so I can join him permanently in the coming months. Here's what we have learned so far: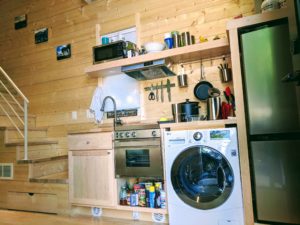 You have what you need and need what you have.

Get a friend or relative to help you go through your stuff multiple times to purge what you don't need. Sort into: need, want, must have

Ask yourself "Is this item going to add happiness to my life or not?"

Use the "hanger trick" – turn all hangers one way and as you use each clothing turn the hanger around. At the end of a pre-determined timeframe, it's time to face the facts on which clothes you actually never wear. Donate them.

Try before you buy. Airbnb a night in a tiny house to see if you'd like it.

We stayed in a tiny house on a road trip before proceeding with deciding if we could actually see ourselves going tiny. We learned what kind of toilet we didn't like, saw how space could be utilized (or underutilized in this case) and got a taste of what it could be like.

Research designs and layouts before buying one. Take the time to know what you do and do not want in a layout.

Important items for us included stairs, big windows, a full kitchen, a washer/dryer combo, a loft for a bedroom, efficiently allocated storage space, aesthetically pleasing feel and not crowded feeling, and not bigger than we actually needed.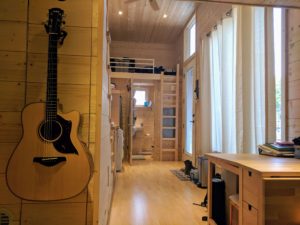 Tiny living allows you to spend money on higher quality items or more of what makes you happy, like traveling!

Having a tiny house is less expensive than a traditional house, which allows you to save in the long run and use that money toward experiences, or a smaller number of higher quality items that you will use regularly (like pots and pans, good shoes, nicer clothes, etc.).

Lower monthly expenses allow you to pay off the tiny house sooner and have a higher savings rate for your retirement accounts.

You can travel with a tiny house, but be aware that it's a haul and a hassle to get it from point A to point B.

The size of the tiny house matters if you plan to continually haul it (i.e. clearance under bridges and at gas stations, and gas mileage – as we learned you can only safely go a max of ~55 mph on the interstate, assuming it's in decent weather).

"Less stuff, more life."

There's no need to keep any stuff that isn't truly useful in your life. You'll have more room for happiness when unnecessary items are not mentally consuming you.

When your life is simplified, you'll be able to focus in on what brings you joy.

Enjoy more of nature!

A tiny living space forces you to get outside your own little world more. Breathe in the fresh air, unplug and disconnect from your phone, and enjoy the nature around you.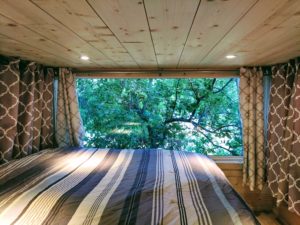 Living in a tiny house at first is different than what you're used to. But it's just like getting used to any other new home.

Ensure your water (with a filter!) and electric connections are set and intact.

We chose to park the tiny house in an RV park. This comes with its own uniqueness of consistently getting new neighbors, free wi-fi, a pool, utilities paid for, no lawn, and many other things.

Also, your daily routine takes time to get accustomed to. Remembering where you have items stored, different house layout, keeping the place a little more clean than usual, amongst a variety of things.

Research what big-ticket items you'd like in your tiny house, like a composting toilet, oven, stove, fridge, kitchen table, washer/dryer, etc.

We discovered that a composting toilet is not such a bad option! It's more earth-friendly and not as stinky as it sounds. It also allows you to go "off the grid" without needing to be hooked up to water and electricity.
These big-ticket items are worth splurging for at the time. We figured having a washer/dryer in the tiny house would save us time by preventing us from running to the laundromat. We also are saving money by having a quality kitchen and not resorting to restaurants or fast food.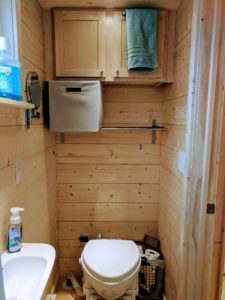 Pre-plan where you're going to park your tiny house and remember that you will need water and electricity hookups (even if you have a composting toilet 🙂 ).

Consider the seasonal changes that will have an impact on usability, like snow. Even the heat will impact your tiny house consideration because you'll need the A/C to run consistently.

Will you be able to connect to water if you're in sub-zero temps? If so, you will need heated electrical tape for the hose and a place to connect to water and electricity.

Will you live in an RV park or do you have another location in mind that has water and electrical hookups? Research your options and the cost for each.

You can even live "off the grid" if these options are not a fit for you.

Have a game plan for towing the tiny house, whether that be a ¾ ton truck that you own, hiring a company, borrowing a friend's truck, or utilizing Uhaul.

Remember that you're not going to get "good" gas mileage when towing a heavy house. We averaged 8 miles to the gallon. Budget accordingly, both financially and with your time.

There is also a website called uShip where one can contract a shipping partner to haul or ship their goods.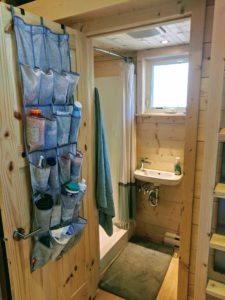 How are you going to cook?

You'll have to make a grocery list and we recommend pre-planning your meals because of spatial limitations in your "tiny" fridge. Meal prepping is a great option!

Utilize a slow cooker.

Know that you'll have a smaller fridge for less food. You'll have a smaller stove and smaller oven, but this doesn't need to stop you from making full meals.

Also, by meal prepping you'll save money by having a grocery list and sticking to it but also eat healthier as well!

Look at creative ways to store items. Pinterest is a great resource for this!

Select furniture that is multi-purpose. For example, we have a table that folds out, has drawers, and is highly compact. We also have a couch that doubles as a pull-out and has a storage unit built into it.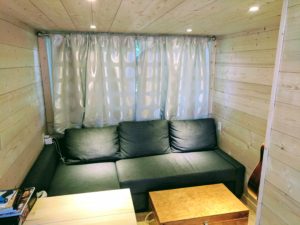 You can ask: "What if X, Y, Z goes wrong/happens?" But nobody ever asks "What if this goes right?"

Before we bought one we had played the "what if" game and could have played it safe, but it came down to experiencing life the way we want to and taking a leap of faith.

Remember to budget for the "fine print" costs. This includes the cost of insurance, tax, title, license, loan, etc. Note that this will vary from state to state.

The company that made our tiny house was based in another state that didn't require taxes on it, so we had to pay taxes for it in our state.

With a loan, know what company you're going through and what the interest rates are. The loan should be classified under a travel trailer.

Shop around for the best rates on a loan and insurance.

Build it yourself or buy it new or used.

Building it yourself on average would cost $25,000 – $30,000. This also includes a significant investment of time, resources, and a good understanding of construction (plumbing, electricity, etc.).

Buying it new means it will probably cost more.

You might find a used tiny house for cheaper if you look in the right places (Craigslist or Tiny House Listings: Tiny Houses For Sale and Rent).
Our advice to you if you're thinking about it still: Just go for it and learn along the way! We hope that if you decide to "go tiny," the change just might make your life a little bit better.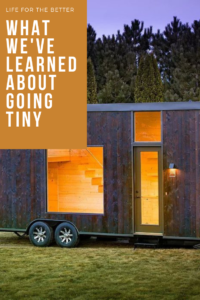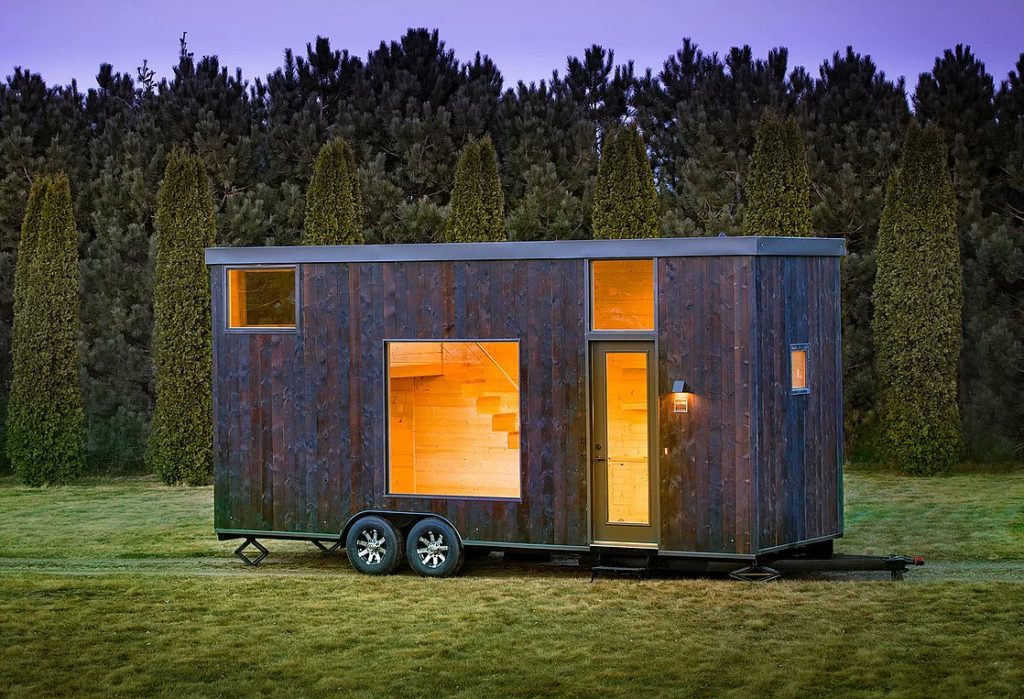 We use Personal Capital to track our net worth. We simply connect our assets and it tracks everything for us! Our net worth, cash flow, budget, investment fees, retirement planner, and more are tracked through this site. It's completely free too! Sign up for free and receive $20 when you open an account!