10 Things We Love About Living In A Tiny House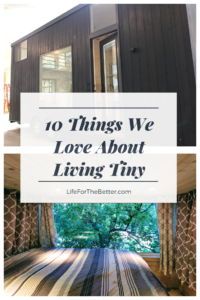 L: When I told my family and friends I was moving into a tiny house with Tim – after we had been long distance for our entire relationship – some scoffed and said, "Good luck!" His family said, "Watch out for the boy smells!" (The later was a fair warning.)
Although I understood this lifestyle would be different and a big adjustment, I never doubted we'd be able to live comfortably within the same 269 sq. ft. Now I am certain it's a misconception that leads people to believe two people can't share a small space and be happy.
Maybe not everyone would want to do it, but with the right mindset, I think anyone could do it. There are plenty of reasons we love living tiny – together!
The space is very functional.
Most of the time, we can both do our own things from the same room without disturbing one another.
Disclaimer: There are times where introversion takes over and Tim needs space. Our living room is almost like that of a "regular" house. There is plenty of space on the couch to sprawl out or we can bring in a chair from outside to sit on (that's a singular chair).
There are multiple places we can eat each meal.
We can eat inside on the couch (using a chest with clothes in it for our tabletop), the literal tabletop we have in the kitchen/living room, or outside on the picnic table.
Each item must be multi-purpose for us. The couch triple functions as a couch, bed, and storage. The chest is a coffee table with storage inside. The table top is our dining table and also has six drawers for storage.
Having a tiny space inside means going outside is mandatory.
Outdoor time has increased for me. I would not call myself an "outdoorsy person," but living tiny gives me a little extra desire to get out, whether it's for a meal or for Tim's and my nightly sunset date (highly recommended, wherever you may live).
We don't feel like staying inside all day, especially with ample space to play outside. We love to go hiking, biking, or running. Sometimes we pack up the vehicle and go somewhere for the weekend.
A big bonus that is also part of living in a bit of a remote location is that we can go to new places on weekends. We can take a drive to a concert out of town, find a cheap Airbnb and go out to eat at a foreign diner. We can put a little extra cash into experiences and quality time together, which is what we value most.
The view we wake up to is breathtaking.
Peeking over our toes out the panoramic window, we watch the sun rise over painted mountains that are outlined by the golden sunlight. L moved from a place with a cool view overlooking a busy path and the city skyline. It didn't even compare. We don't think we will ever have a view that compares to this one.
Cost of living is cheap, which allows us to save.
Living in an RV park is so inexpensive! Our rent is $240 plus electric. We also don't have any maintenance fees or extra costs for mowing the lawn or shoveling snow. Most RV parks have free-wifi, too! Some have pools or recreational areas to enjoy. Other RV parks include utilities with rent. Our previous place included water, sewer, garbage, electric, and wi-fi.
Not having more stuff than you need is a good thing!
We actually get to use the items that bring us joy. Minimalism isn't about having the least amount of stuff; it's about having and using the items you truly enjoy.
L: Tim says I tends to wear the same clothes over and over again. He's right: I rotate between about five different tops and a few pairs of shorts/pants. He laughs at me for wearing the same few (clean) shirts to the gym every day. You really don't need that many clothes, especially if you're not trying to impress anyone. 😉
A tiny space is easier to keep clean.
By keeping the tiny house clean, we get to spend more time together. We don't have to spend significant chunks of time doing chores around a giant house. We get more quality time with each other.
L: I have to say, I have not yet felt like this home is too small or claustrophobic (except when a certain male human – who I won't name – relaxes his butt muscles to let out a big one…ALL THE TIME). Overall, it's much easier to keep clean, it's cozy, and it truly feels like home.
We live with the thrill of adventure in our veins!
Living tiny gives us something different to try. The traditional route of apartment living or a house is nice and all, but we'd rather live tiny and experience it for ourselves instead of watching it on HGTV. What's the worst that can happen? We sell it and move back? Life is about growing as a person and living tiny allows us both to do that.
Tiny homes are great for the environment!
We have always valued ways to reduce our carbon footprints, like by recycling, carpooling, or (currently) using a compost toilet. By living tiny, we are happily making a "tiny" impact on the environment.  
Meal prepping
Although we have a small kitchen and don't necessarily like that fact, we do love that having a tiny house forces us to meal prep. This helps us plan out our meals for the week and keeps our budget low.
Living tiny is not for everyone, but it's definitely an incredible experience in minimalism and discovering what we actually need. Off the top of your head, can you list all the items that you truly need? There are pros and cons to tiny living, but ultimately, we thoroughly enjoy this lifestyle at this time in our lives. We wouldn't change a thing (okay, except for the countertops, bathroom size, and storage space… 🙂 ) 
We use Personal Capital to track our net worth. We simply connect our assets and it tracks everything for us! Our net worth, cash flow, budget, investment fees, retirement planner, and more are tracked through this site. It's completely free too! Sign up for free and receive $20 when you open an account!