A Complaint-Free World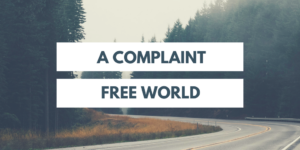 I don't know about you, but I can find something to complain about 90 percent of the time without noticing I'm doing it. Seriously. And I don't consider myself to be a Debbie Downer by a long shot. Have you ever caught yourself complaining and then wondering why? Why are you complaining about the traffic when you knowingly left work during rush hour and don't have a hot date waiting for you to arrive at any particular time? Why are you complaining about your colleague who can't seem to understand a basic function of the job…when the fix could be as simple as offering to help explain it to him or her? Why are you complaining about the rain when it's been sunny the past three days? It's just a little too hot or a little too cold. Always. We as humans complain about EVERYTHING.
I'm curious if groups of children in third world countries complain when their only soccer ball that is the main source of entertainment, loses some air. Do they stop playing just because it's a little bit flat? Do women and girls in rural Africa complain because they have to walk an average of 6K round trip to get questionably clean water and carry 40 pounds of it back home with them? Do refugees complain when —-? You get the idea.
A goal that Tim and I have set with each other is to stop complaining. One of the first things you'll have to do is define what a complaint is. A complaint to us is as follows: a negative context to an event or situation that does not have solutions to fix the problem. The first step in achieving this is catching yourself in the act. In those moments, stop and ask yourself why. Why am I complaining? Also, how can you solve the complaint? If you can't solve it, is it worth your energy to brew over it at all? Think "solution" instead of only thinking "problem."
We also call each other out if we catch the other one complaining about something. This holds one another accountable for our actions. If one another hears a complaint taking place we simply remind one another "Is that a complaint?" We have been counteracting the complaints by adding the word "but" at the end. This forces us to provide a solution to the problem.
To help us better identify when we need to take a step back, we made bracelets. They remind us, among other goals, that complaining has no purpose in our lives. They are daily visual reminders to cut the complaints and find the positives in negative situations. If we voice a complaint, we must switch the bracelet to the other wrist. Consistently recognizing the bad habit is the first step to helping break it.
We made these bracelets together in a fun DIY night. We shopped on Amazon for embroidery string and then went to Youtube to figure out how to make them. We took it a step further and instead of making our own bracelet we made it for one another. This fun little date night was extremely cheap but it also provided us time to talk to one another about life. What makes each of us mad with the world? What's a pet peeve that we do that drives one another crazy? We've found that having an open and honest communication in our relationship has helped tremendously. Give it a try!
Once you give this experiment a try you'll start to notice how much other individuals complain. For us, we started to take a different look at the situation at hand. We have become more grateful for what we have, the conversations that are taking place, and having a peace of mind that everything will be alright.
We've also noticed that a structure has taken place in our thought process. By that, we tend to look at fixing the problem and providing a solution so that it doesn't happen again in the future. We also notice others around us complaining about trivial things. Hearing others complain constantly makes each of us stop and think about how we can change the problem at hand. Can we provide a solution to the complaint? Can we tell them about the no complaint challenge?
Don't get us wrong, sometimes a complaint is necessary. Complaining helps a person feel better momentarily but, not for the long haul. Complaining also helps find what is wrong in situations. By finding what is wrong, we can find out what is right and how to fix it.  
Consider what you complain about. Are those complaints merited or have they wasted breath? Are you looking for solutions or pity? What kind of daily marker can you make to help remind you of this mindset?
Take the step to eliminate complaints and keep them from sucking the joy out of your day. It's our hope that this will make your life a little better.
Let us know how your bracelet turned out! Or how not complaining has changed your life. We look forward to hearing your thoughts on a complaint free life!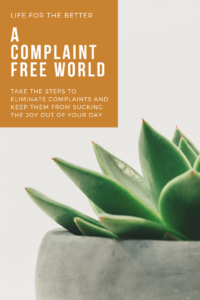 We use Personal Capital to track our net worth. We simply connect our assets and it tracks everything for us! Our net worth, cash flow, budget, investment fees, retirement planner, and more are tracked through this site. It's completely free too! Sign up for free and receive $20 when you open an account!