How Consolidating Payday Loans Can Help to End the Debt Cycle
Today's Guest Post comes from Good Nelly. To keep this introduction short… Take it away!
If you'd like to guest post for us let us know! Reach out to us in our Contact Us page or via e-mail or Twitter!
Author's Bio: Good Nelly is a financial writer who lives in Milwaukee, Wisconsin. She started her financial journey in 2007. Good Nelly has been associated with Debtconsolidationcare.com for 9 years. Through her writing, she has helped people overcome their debt problems and has solved personal finance related queries. She has also written for some other websites/blogs like Camp Fire Finance, XRAYVSN, Diana On A Dime, Peerless Money Mentor, and more. You can contact her at:[email protected].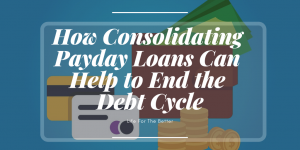 It becomes very tough to put an end to the payday loan debt cycle. You take out one payday loan to repay another and the cycle continues, one of the prime reasons being the high interest rates on payday loans.
It might also happen that you're trying to repay your multiple payday loans or payday loans. If you're in such a situation, you need to tackle all of your payday loans together.
When you opt for payday loan debt consolidation or payday loan consolidation, you can repay all your payday loans and other unsecured loans together.
So, let's discuss how consolidation can help to put an end to your payday loan debt cycle.
How consolidation can help you to end your debt cycle
Whatever option you choose to consolidate your debts, the main thing is you'll have to make a single monthly payment towards your multiple payday loans. It is much easier to manage a single payment than making multiple payments.
Moreover, the interest rates on your loans also get reduced. So, you pay less on the interest charges, too.
What loans you can take out to consolidate your payday loans
Here are a few options to repay your payday loans by opting for payday loan debt consolidation.
Take out a personal loan from a financial institution
Shop for personal loans and compare the terms and conditions on each of them. If your credit score is good, then you'll be able to take out a loan with a suitable interest rate.
However, while taking out such a loan, make sure the interest rate is lower than the sum total of your existing debts.
The interest rates on personal loans are usually lower as compared to the interest rates on payday loans.
Now, with the new loan, you repay your existing payday loans and then start making monthly payments to pay off the new loan.
Tap your 401(k) and clear your payday loans
The main advantage of taking out a loan from your own 401(k) account is that the interest you pay is actually paying back yourself.
However, you usually have to pay a fee if you borrow from your 401(k) before 59 and ½ years of age.
Most employers also require to repay the loan amount within 60 days. If you can't pay back, it is considered to be early withdrawal and you have to pay about 10% penalty on the withdrawn amount.
Opt for a cash advance on your credit card
Are you surprised to hear that you can consolidate your payday loans with the help of a credit card? Yes, it's possible.
What you need to do is, take out a cash advance with your credit card and repay your payday loans with the amount. Now, opt for a 0% or very low-interest rate credit card and transfer the balance to that card.
You can also take out a cash advance with the balance transfer card.
However, while doing so, make sure you repay the outstanding balance within the low introductory rate period.
For example, if the 0% or low introductory rate period is for 1 year, then repay the outstanding balance within that time and avoid paying much higher interest on the remaining balance.
However, you'll have to pay a fee on the withdrawn amount if you opt for a cash advance on your credit card.
Take out a home equity loan or a HELOC
If you have sufficient equity in your home, you can use that as collateral to take out a loan. And then, use that amount to end your payday loan debt cycle.
If you opt for a home equity loan, it's a one time loan; but, if you want to opt for a home equity line of credit or HELOC, then it's like a credit card. You can take out an amount, pay it back and then take out a loan again.
The interest rate on a secured is usually much lower as compared to an unsecured loan.
Refinance your mortgage with cash-out refinance
If you already have a mortgage and the current market interest rate is much lower than what you're paying on your home loan, you can refinance your mortgage with a new loan.
Now, while doing so, you can opt for cash-out refinance and take out a loan higher than what you need to repay for your mortgage. After paying off your existing mortgage, use the remaining amount to repay your payday loans all at once.
Make sure you make the monthly payments on the new refinance loan on time to avoid risking your house.
Borrow from your friends and family members
When you decide to opt for payday loan debt consolidation, you can borrow from your friends or family members. It is the best hassle free loan you can obtain.
If the loan amount is big, you can borrow the amount from two or three friends instead of asking from one friend. By opting for this option, you may also avoid the interest charges.
However, do not delay paying back the loan. Fulfill what you promise while taking out the loan. If your friends don't charge any interest, then they are actually losing money by lending you the amount. Moreover, if you delay in paying back the loan, your relationship may get hampered.
You can also approach a consolidation company to get help to consolidate payday loans. When you enroll in a payday loan debt consolidation program, the debt counselor, on behalf of the consolidation company, will review your financial situation and decide upon a monthly payment. He/she will also negotiate with your payday loan lenders to reduce the interest rates so that it's easier for you to repay the loans.
When you make the monthly payment, the counselor will distribute the amount amongst your payday loan lenders as per agreements.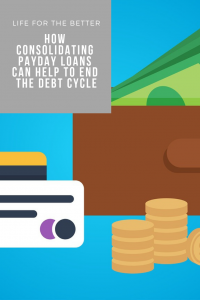 Whatever option you choose, plan a budget and save as much as you can, so that you can repay your debts and bring your financial life back in order. And, after getting out of debt, manage your financial life efficiently so that you can avoid being in a debt cycle in the future.
We use Personal Capital to track our net worth. We simply connect our assets and it tracks everything for us! Our net worth, cash flow, budget, investment fees, retirement planner, and more are tracked through this site. It's completely free too! Sign up for free and receive $20 when you open an account!