Diamonds are NOT a Girl's Best Friend
Here's the deal ladies: For decades, we have been duped. You see that headline? Diamonds are not a girl's best friend. You heard me right! That bling bling ain't worth a thing. It's like driving a brand new car off the lot: You leave the store with something shiny that the world can drool over, but its monetary value plummets the second your transaction is complete.
Back when your great-grandparents were getting hitched, rubies, sapphires, opal, and turquoise were the common gems found on wedding bands. Society tells us that if our significant other loves us, s/he's going to hand over a huge chunk of change to put a rock hard diamond on your finger. And honestly, that's all it is. It's a rock. The value attached to this specific type of rock is connected to the illusion that diamonds are rare. In fact, they're not. On the contrary, they are the most common gem in the world. Their unique quality is that they are the hardest material on earth and are nearly impossible to scratch. The increase in diamond popularity goes back to the late 1930s and 1940s.
The first large-scale diamond mines in South Africa were established in 1888 by a corporation called De Beers. Amid a decline in diamond sales and in an effort to rebound, an ad campaign was launched. You have likely heard that "A Diamond is Forever."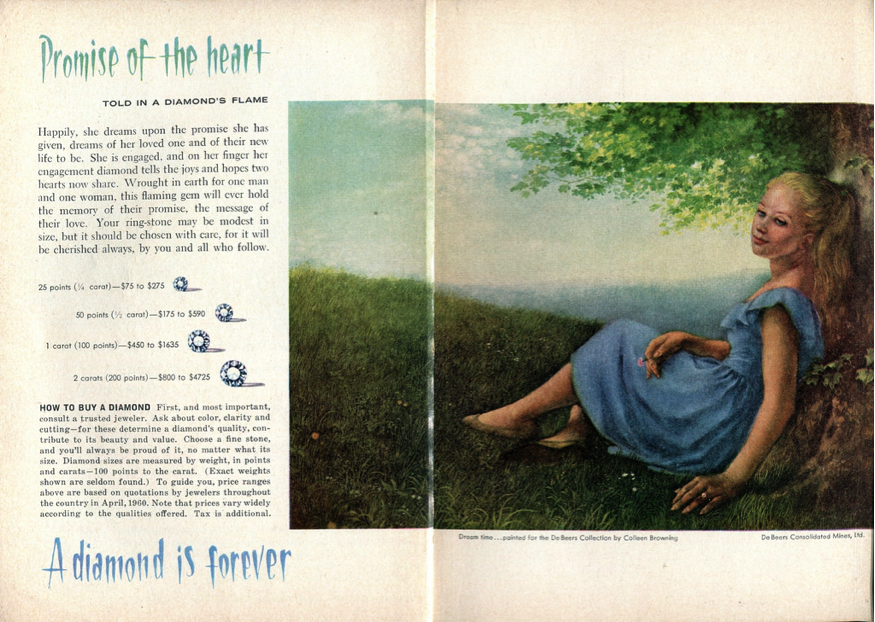 (This was also dubbed the "slogan of the 20th century" by Advertising Age magazine. You can also read the history behind the woman who came up with the slogan.) De Beers' marketing campaign suggested that a man should spend two months of his salary on a diamond ring to prove the worth of his love. (Ladies, I'm calling BS!) With a monopoly on diamonds, big sales meant massive amounts of money for De Beers. Fast forward to the 21st century and American couples collectively spent $11 billion in 2012 alone on diamond engagement rings and wedding jewelry, according to the New York Times.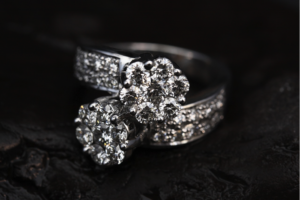 Don't get me wrong. Your rings symbolize commitment and investment in each other. However, I disagree with investing a year's minimum of 401K contributions on something sparkly for a loved one's finger in order to "prove devotion." It contradicts logic. You can have your cake and eat it, too, you just don't need to buy the primo cake because it can be just as good as the homemade kind.
Love don't cost a thing
According to The Knot, in 2016, the average engagement ring cost $6,163; the average wedding that year cost $35,329. This means that nearly 20 percent of the wedding cost is spent on the ring. If a newlywed couple were to take that $6,163 and invest it over the course of 40 years at a market return of 8%, it would turn into $133,888.23. To me, that's "happily ever after"! I would mic drop here, but there's lots more to get to.
I was surprised to learn that one couple I know spent more money on the bride's ring than the entire wedding! Another friend of mine has a massive diamond ring that cost her fiancé roughly $8,000. Two years later, he's still working weekends to pay it off. If the tables were turned and it was me, I'd much rather spend time with my fiancé road tripping for cheap, camping on a weekend or experiencing something together like a European vacation (four times over together if you do it frugally, which Tim and I know from experience is possible – another topic for another blog post).
I Do It The Smart Way
If your man (or lady) hasn't already put a ring on it, remember that a diamond is not the only option. I'm not anti-ring, just anti-money wasting (and I assume you are, too, since you're here). Here are other considerations: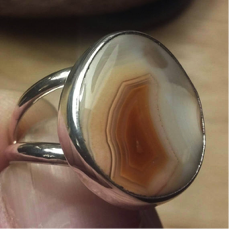 Rock On:
A family member of mine proposed to his now wife with a small agate while they were on a weekend getaway hike. The band of the ring was molded around the rock. Instead of a diamond, she's got the
agate
, which is simple, unique, and cost her hubby far less than most rings. In fact, depending on whether you get a silver or gold band, it can cost anywhere from $50-$700 to set a stone of your own. Of course, this can vary depending on where you get it done, too. Can I just take a moment to appreciate how clever the agate ring is? He got her a
rock
, you guys…
Uncommon Gemstones: My friend knew she wanted a rose gold band and a specific shape for the gem. The kind of gem and the rest of the details didn't matter to her. She opted for a $60 onyx stone purchased on Amazon that can be replaced within the band at her convenience. These gems are moderately durable, and if she wants to, she can order a different colored gem on Amazon and change it out for less than $25 at her jeweler as often or seldom as she wants. Let me tell you honestly, I would have never known it wasn't a pricey gemstone!
Pearls:
You can get a pearl in lieu of a diamond. Talk about a timeless and classic piece! One of my friends went this route and she loves it. The pearl is far less durable than the diamond, but jewelers say that replacing the pearl in a ring isn't necessary, so long as it is maintained appropriately. The sheen will dim over time, but the pearl is an ageless fixture in fashion that won't grow old.
Value > Cost
As for me, whenever the time comes, I already know what I'd like. The time and effort required to assemble it is valuable and meaningful to me, far more than any store bought diamond ring. And if I know my boyfriend – and if we are lucky – he will find a way to make it and still pinch a penny (thatta guy!). I'd love for a small part of an heirloom piece from my grandmother to be melded together with any jewelry from Tim's grandmother (a true coming together of families) for a wedding ring. If he really wants to get into it, pieces from both of our maternal and paternal grandparents would be super cool. It's not about the gem or the size or materialistic matter. It's about the oneness that this symbolizes. No other ring could replicate its meaning. Isn't that what a ring is about anyway? At the end of the day, it's about you, "your person" and your unending love. Think about it. Will a shimmering diamond bling really make your life any better?
A diamond isn't a girl's best friend, but her "person" is.
We use Personal Capital to track our net worth. We simply connect our assets and it tracks everything for us! Our net worth, cash flow, budget, investment fees, retirement planner, and more are tracked through this site. It's completely free too! Sign up for free and receive $20 when you open an account!