Living A Better Life Interview – Work From Home Millennial
In our brand new interview series, we are interviewing various individuals from across the web. This interview series focuses on how they are living a better life. They can be living a better life by pursuing financial independence, minimalism, simplicity, and many more aspects. Are you interested in being interviewed? Continue reading!
Want to be interviewed?
If you want to be interviewed about how you are living a better life. Contact us at [email protected] and tell us why you'd be a great candidate!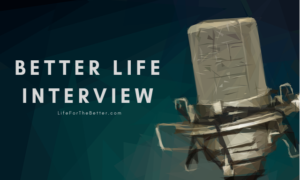 Give us your best elevator speech!
I've created a blog called The Work From Home Millennial. It's a blog about money making and passive income. I'm 20 years old and I've always enjoyed figuring out new ways to make money. While other kids were playing football in the weekend, I was trying to start side hustles and make some extra cash. I was also playing football sometimes, but I quickly found out that I was better at money making. I've developed methods that allows me to live off my online income and have recently quit my job. I also do some work as a screenwriter, but that's more hobby-based these days.

Now I've decided to create a blog and share my methods and my mindset. I haven't made a lot of posts yet though. I'm trying to make posts about the methods mainly but also about productivity and routines. Knowing how to make money is one thing, but you also need to manage your time well if you want to live off it.
How are you living a better life than you were last year? 5 years ago? 10?
The 10-year part is hard for me to answer. 10 years ago, I was 10 years old. Everything is awesome when you're 10 years old. There're no concerns in life. I didn't have to do anything. I just enjoyed life and played with my friends.

5 years ago, though, I was 15. And I can tell you for sure that my life has improved from 15 to 20. I was an insecure kid. I was trying to make money, but all my side hustles failed. I was very extroverted and isolated. I had to rethink a lot of things to get to where I am now. I wasted a lot of time back then. Staying in my room all day and played video games. Video games can be good at times but when you let it take over, it's a huge time waster. I had to cut it out. Spend more time outside when friends. And when I was at my computer, I started using that time to study and develop methods that actually worked. By 18 I had changed a lot. I'm still changing at 20 but things are a lot better now.
What would you tell your younger self?
It's tough for me to answer this question. I'm still very young and have a lot to learn. But I would tell myself to spend as much time as possible reading and studying. Don't waste time. Spend time on things that develop you as a person. Spend time on things that create experiences. Things that will matter in the end.
What made you want to change the way you were living?
I grew tired of the way I was living. It was boring and repetitive. I saw people that were making a lot of money. People who had awesome lives. I decided that I would do anything I could to get to that point. I already knew that I was wasting a lot of time. I just always thought that it was okay since I was just a kid. But I didn't want to wait any longer than I had to. So I just decided that from this point on, I would cut out time wasters and spend time on the right things.
Does financial independence play a role? If so, how?
It does. I hope that I can earn enough money to retire early. I hope that I can set up methods that allows me to live off passive income. I'm extremely far away from that point. Financial independence is the end goal, but right now I'm still young and I want to spend at least a bit of "dumb" money. I still have some party years left and I intend to use them.
What advice do you have for others in living a better life?
Read and consume as much knowledge as you can. Don't just read stuff that's directly pointed towards you. Read everything you can. Search the web. There's a lot of great content out there. Everything you find and learn something from, is time well spent. The more knowledge you can get, the more opportunities you can get. I would also suggest travelling if that's possible. I've been to over 20 countries and there's something about travelling that you just can't get from a book. Seeing other cultures is an amazing way to learn.
What books/podcasts/blogs have you consumed that lead you to this point?
I've always loved reading. The books that have gave me a lot are not always the ones that you would expect. I've made a little list of some books that have influenced me a lot.
Man's Search for Meaning by Viktor Frankl

Based on a True Story: A Memoir by Norm MacDonald

The Experience Economy by Pine and Gilmore

Thinking, Fast and Slow by Daniel Kahneman

Anna Karenina by Leo Tolstoy

The Death of Ivan Ilych by Leo Tolstoy

Animal farm by George Orwell
In terms of podcasts I've always loved Joe Rogan. It's mostly because he's a great interviewer that understands why listening is so important. He brings on a lot of different people so there's a lot to learn. I also listen to Comedy Bang Bang. It's a great comedy podcast with a lot of improv and character comedy. I mainly use it for my writing.
Mr. Money Moustache is one of my favorite blogs. It has some great content about making money and how to spend it.  
What's one area in your life you still struggle with?
Sleep is something that I have a lot of problems with. I don't sleep enough at all. The problem is that sleep affects everything. Getting a bad night of sleep can ruin the entire day. My concentration has been very limited due to my sleeping issues. And whenever my concentration fails, my income takes a hit. So right now, I'm spending a lot of time trying to sleep better. I had no idea how important it was to sleep well, until I started having problems. Don't underestimate a good night's sleep.
If you had to give just 1 tip that you've learned along your journey, what would it be and why?
Read, travel and work hard. If you can do those things, you'll have a great foundation for success. But if you can't keep it up, then it'll fall apart. So, my tip is to remember to spend time on yourself. Leave some time open in your schedule to do whatever you feel like. Hang out with friends, go to a party, have a night out, play some video games. If you work all the time, you probably won't be able to keep it up. And what's the point of having money if you can't buy a round for your friends.
Where can readers get in touch with you?
You can read about my methods and routines on The Work From Home Millennial. I also have an Instagram you can follow. If you want to get in contact with me, I have a Discord and my email is [email protected]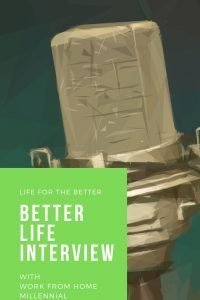 We use Personal Capital to track our net worth. We simply connect our assets and it tracks everything for us! Our net worth, cash flow, budget, investment fees, retirement planner, and more are tracked through this site. It's completely free too! Sign up for free and receive $20 when you open an account!