RAK Challenge
#RAKChallenge
We have a proposal and challenge for you – yes, YOU – that lasts throughout February. It will take as little as one minute of your time each day, and can make a lasting impact on those around you. It might even make a lasting impact on you!
One of Many RAK Stories
There was a guy who lived in my dorm in college who quickly made me think, "Are you creepy-friendly or just the right amount of friendly?" We will call him J. He was energetic, loved to meet new people, and always had a moment to spare to say hello to familiar faces. We were acquaintances through mutual friends.
I must have mentioned my upcoming birthday in passing, because I was extremely surprised to find a beautiful handwritten birthday card from J with a Starbucks gift card in it. Creepy-friendly or just the right amount of friendly? Was he trying to make a move? I did not want to give J the wrong idea by acknowledging this card too gratefully. He wrote in the card that he purely enjoyed making cards and celebrating people. Still, I was admittedly cautious.
Two years later, after getting to know J a bit better in a class we both took with only a few students, I concluded that the card was simply a random act of kindness. He didn't have an ulterior motive. He was just a friendly person who found delight in brightening other people's days. Shortly after that class ended and he and I both graduated, sadly, J committed suicide.
I still have that Starbucks gift card in my wallet – which had $25 on it – a fortune for any college kid. I haven't spent the rest of it because it's a reminder to me of the kind acts that money can't buy and the many random acts of kindness that I have left to spread.
What is #RAK?
J's random act is one of many examples random acts of kindness (also known as RAKs) that can be done. Our RAK challenge simply stems from our desire to spread goodness to others. The extent of RAKs can vary widely. It can mean reaching out to a former mentor and thanking them, or volunteering your Saturday to help at your local animal shelter. There are large acts of kindness and small acts of kindness, but every one is meaningful.
Making someone's day a little brighter can have a ripple effect. In our experience, when we do a RAK like paying for the person behind us in the drive-thru, we always ask the cashier to tell the recipient to have a nice day and to pay it forward. This is our way of inviting them to keep the kindness going.  
If you want to learn more about Random Acts of Kindness click here! We tell about our story with Random Acts and how it shapes our relationship and community.
Spread Kindness!
February 17th is National Random Acts of Kindness Day. We thought, just one day!? Why not make this an entire month – 28 days of random acts? (We also see the irony in a day devoted to "random" acts of kindness…because they are not really random if they are deliberate and planned out. But does it really matter if you're doing something good?)
The rules are simple:
Follow the list of ideas below for each of the 28 days in February, or create your own for the day.

After you complete a RAK for the day, tweet about your random act and tag three other people in the tweet to challenge them to do a random act, too. Use the hashtag #RAKChallenge.  

Smile! You've just made the world a better place!
We hope you will participate in improving our world one RAK at a time!
Here are 28
Random Acts of Kindness
you can do this February.
February:
Buy someone coffee

Buy someone's lunch

Tape money on a vending machine with a note saying "It's on me :)"

Donate some of your clothes

Call or email a former teacher or mentor who impacted you

Put thoughtful notes around the office/house

Leave a generous tip while dining out

Pick up trash on your block

Hold the door for someone

Text/call a friend to say you're thinking of them

Let someone cut in front of you in line

Let someone merge into traffic

Return a discarded shopping cart to its proper place

Volunteer somewhere

Do chores around the house that your significant other or roommate hates doing

Compliment a stranger

Sit with someone who is sitting alone at lunch

Listen to someone's story

Run an errand for someone

Cover for a co-worker so they can leave early

Donate to a charity

Give someone a gift card "just because"

Cook a meal for the local fire station

Be the DD for the night

Give up your seat on the bus, subway, or in a meeting

Handwrite a family member a letter

Say thank you to the janitor

Give food to a homeless person on the street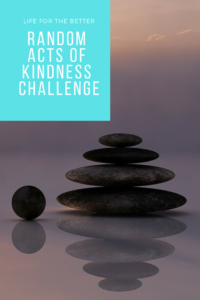 We use Personal Capital to track our net worth. We simply connect our assets and it tracks everything for us! Our net worth, cash flow, budget, investment fees, retirement planner, and more are tracked through this site. It's completely free too! Sign up for free and receive $20 when you open an account!