Sunday Sharing Vol: 30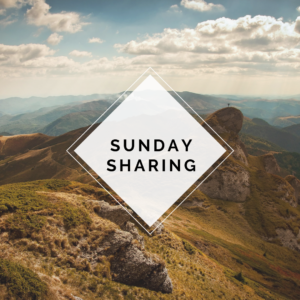 Each Sunday we post interesting articles, videos, podcast episodes, and more that we've consumed from across the web. We'll give our thoughts on what we've learned through others in Sunday Sharing.
What We're Reading
Articles / Blog Posts
Happy New Year and welcome to…oh shit, we're 1/6 of the way into 2019.

So that ship has sailed! Which is fine, because I hate New Year's resolutions anyway. Last year I tried something new and did a series of monthly experiments instead of year-long resolutions. While that was fine, it was also hard to build any momentum. I don't like the focus on "new year, new me!" that tends to come with resolutions in January, but there is value in tracking goals for a longer term/over the course of the year, rather than moving on after a month.

So this year I'm trying another new thing and doing a kind of bucket list for the year (credit to Sarah at Smile and Conquer for the idea). And 19 for 2019 sounds catchy, so 19 bucket list items/goals for the year it is!

First up, money things because I am a personal finance blogger.
It finally struck me on a drive home. It's the number. The number that's lingered in the back of my psyche for these past several years like a whisper you can't quite hear. (I didn't try to hear it, naturally, I'm really good at blocking out subtle noises to concentrate.)

Mom got sick when she was in her 40s. She had several chronic problems, including dementia which is incredibly hard to handle on every level. We struggled to get diagnoses and/or treatment but nothing was terminal. (Feels familiar.) Then at 55, she died of sudden cardiac arrest.

55 means death, not a reasonably early retirement.
I consider myself a progressive minimalist: someone who adheres to a minimalist lifestyle as a strategy to improve the quality of life of both myself and the larger community. From the various responses I receive from this blog, my former podcast, and the other sites that my writing lives on, I believe there are others that share my mindset.

Progressive minimalists focus on maximizing human well-being within our ecological means through sharing work, consuming less, and spending more time in nature, with our community, and pursuing experiences we find meaningful. Less is not simply more; less is ecologically and financially sustainable.
Articles We Posted
There are many areas in personal finance that we agree upon. However, there are other areas where we disagree. That's why it's called personal finance because it's personal to your situation.

I asked 29 Personal Finance Bloggers what their unpopular opinion regarding finances was.

What's your unpopular opinion regarding personal finance?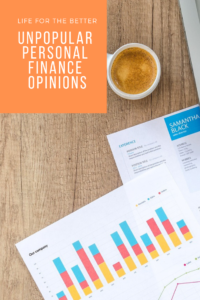 What advice do you have for others in living a better life?
Set big goals, work hard to achieve them, and learn from your mistakes.
Everyone has a different path they must tread in life, and, life deals us different hands. In the grand scheme of things, do your very best, be your very best self, and be kind to others.
Financial independence is great, but you don't want to get there by leaving a trail of chaos and brokenness in your wake. At the end of the day, you want to have lived a good life!

Send us your material!
Feel free to send us articles, videos, podcast episodes, etc. that you've enjoyed. It can be from your own works of art or from someone else's. We might even feature your material!
Check out former Sunday Sharing volumes here!
Featured On Life For The Better?
Being featured on our weekly Sunday Sharing is a badge of honor. We only select the top posts from the week that made us stop and think about the article.
If your post was featured it means that your post was the best of the best.
If you were featured, grab your badge today to show your were the best of the best!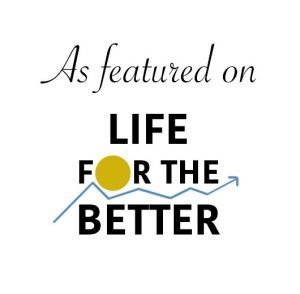 We use Personal Capital to track our net worth. We simply connect our assets and it tracks everything for us! Our net worth, cash flow, budget, investment fees, retirement planner, and more are tracked through this site. It's completely free too! Sign up for free and receive $20 when you open an account!