Sunday Sharing Vol: 33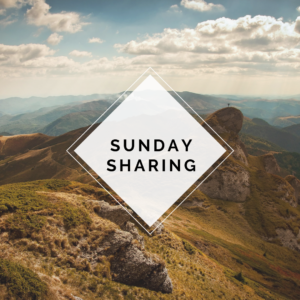 Each Sunday we post interesting articles, videos, podcast episodes, and more that we've consumed from across the web. We'll give our thoughts on what we've learned through others in Sunday Sharing.
What We're Reading
Don't Settle for More
 
Most of us know we own too much stuff. We feel the weight and burden of our clutter, and we tire of cleaning and managing and organizing.

While excess consumption leads to bigger houses, faster cars, fancier technology, and cluttered homes, it never brings happiness. Rather, it results in a desire for more. It redirects our greatest passions to things that can never fulfill. And it distracts us from the very life we wish we were living.

Live a better life with less.

In The More of Less, Joshua Becker helps you…

• Recognize the life-giving benefits of owning less
• Realize how all the stuff you own is keeping you from pursuing your dreams
• Craft a personal, practical approach to decluttering your home and life
• Experience the joys of generosity
• Learn why the best part of minimalism isn't a clean house, it's a full life

The beauty of minimalism isn't in what it takes away. It's in what it gives.
Articles / Blog Posts
Today, the financial independence, retire early (FIRE) movement is gaining popularity very quickly. Although a lot of people are working towards the same goal of financial freedom or financial independence (FI), there are several different paths you can take to get there.

You don't have to be a high-income earner in order to have a chance to reach FI.

In this article, we'll look at 7 different paths that you can take on your journey to financial independence. This isn't intended to be an all-inclusive list that covers every possible approach, but it does cover some of the most common and more realistic options.
What follows is a photograph for every country, or self-governing region, that I have visited.* There are a few photos I lifted off my personal Instagram account, but other than that none of the photos are edited or altered, mostly because I don't have photo editing software on this computer.

When looking through this list, I'm confronted with how lucky I have been. Even though I did much of this travel through some form of travel hacking, most people across the globe will never have these opportunities, and I am grateful to have this kind of freedom.
How to Reduce Burnout (and How I've Kept my Sanity)
Adequate sleep: Make sure you're getting your Zzz's. Babies get cranky when they don't get enough sleep, and so do we.
Do a little Self-Care everyday: Even if it's 2 minutes of breathing exercises, listening to a solid audiobook on your commute, savoring your coffee, or a nice hot shower/bath, do something to love yourself.
Reduce impulsive decisions: Sleep on it. Once of my saving graces has been realizing "I don't need to make a decision/respond to this/take an action right now". Some things do require immediate attention, but most, don't.
Don't Believe the Hype: Why Every Situation is Unique

Now that we have these numbers, I admit it's hard to argue to not pay off the mortgage to make more money. Here is the thing though, that doesn't feel safe to me. At this point in my FIRE journey, the majority of my income is tied to my regular job. If something happens there, like I get injured and can't work, I'm in a world of hurt. I know many people think that they can get some piece of mind by not having a mortgage.  I totally understand that feeling. But, I have the counter argument. Wouldn't you feel more secure with another income source in the event life doesn't go as planned?
Articles We Posted
When we are sightseeing or being tourists we often reach for our phones to take pictures right away. Why though? To relive that moment – the one you weren't even present for in the first place? Aren't you there to experience the sights and take it in?

There are already millions of photos of the location online. You could just go to Google Images and search for the photo and be content on your couch. Stop and experience the sight and then, if you want, take pictures.

What's a photo worth? How many "likes" on social media do you need to justify missing the moment? Are you living that moment for yourself or for others?

Take pictures after you've had time to truly experience your surroundings. When you look back at the moments on your camera you'll have a different appreciation to the photo. You'll see the photo in a different light and meaning.
If you had to give just 1 tip that you've learned along your journey, what would it be and why?

Do things based on your personality, not because others are doing it. To be successful, I've learned it's very important to know who you are. We all have strengths and weaknesses. No one is good at everything. But we all are good at something. Figure what that something is and hone your skills. Don't spend time on your weaknesses because you can always find others to help. By focusing on your strengths, you strengthen your skills and get even better.
Send us your material!
Feel free to send us articles, videos, podcast episodes, etc. that you've enjoyed. It can be from your own works of art or from someone else's. We might even feature your material!
Check out former Sunday Sharing volumes here!
Featured On Life For The Better?
Being featured on our weekly Sunday Sharing is a badge of honor. We only select the top posts from the week that made us stop and think about the article.
If your post was featured it means that your post was the best of the best.
If you were featured, grab your badge today to show your were the best of the best!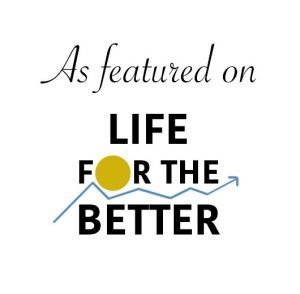 We use Personal Capital to track our net worth. We simply connect our assets and it tracks everything for us! Our net worth, cash flow, budget, investment fees, retirement planner, and more are tracked through this site. It's completely free too! Sign up for free and receive $20 when you open an account!