Sunday Sharing Vol: 1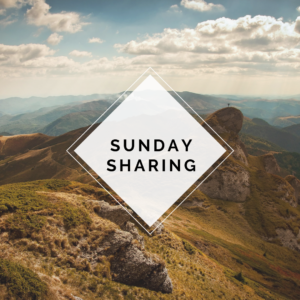 Each Sunday we will post interesting articles, videos, podcast episodes, and more that we've consumed from across the web. We'll give our thoughts on what we've learned through others in Sunday Sharing.
Articles / Blog Posts
Four Pillar Freedom –  Advice on Saving & Investing in Your 20s
I recently found Four Pillar Freedom and can't get enough. I might have to stop reading books for a while and just binge read everything there. I'm a sucker for visuals and numbers.
These tips in the blog post are key for anyone in their 20's. If you're part of that demographic, stop and take 5 minutes to read this article. The saying "I wish somebody told me that…" came to mind while reading this. I can just see individuals in their 30's+ stating that over and over.
ChooseFI – How To Be A FI Minimalist (Without Being A Minimalist)
Brad and Jonathan continue to put out quality material in both their blog posts and podcast. There is always an actionable tip to take away. Grab a pen and paper, or do as I do and put it on your phone through Evernote or Google Keep and take notes.  
This post highlights the fact that one doesn't need to limit his or her possessions in order to be a minimalist. It's about finding what truly makes one happy in life. Simplicity is key.
The Mastermind Within – What is Side Hustling and Why I Side Hustle
Erik really loves to challenge the status quo. That's why I respect him a lot. He's not afraid to challenge an idea in order to gain a different perspective.
In this article, I found it beneficial to think of the why behind side hustling. It also made me consider why do we do the things we do.
Making Sense Of Cents – Is A Credit Card Emergency Fund A Smart Idea?
Michelle is consistently posting about topics that relate to everyday life. There's something I truly enjoy about reading down to earth material.
This article is great because I believe it challenges the idea of the status quo of having only cash for an emergency fund – or selling stocks, but they could be at a low when you sell them. It's great to challenge ideas for different viewpoints.
Saving Joyfully – YOU COULD SAVE MONEY ON YOUR CAR INSURANCE
Andrea has quickly become one of my favorite bloggers to interact with. It's rare that we find individuals that just want to help others no matter what. Andrea does just that. She is truly a genuine person who wants to impact those around her in a positive way.
This article is a great way to save money in one's budget. I recently contacted USAA to lower my insurance simply by calling and talking with them. They also have a section on their app to update discounts. A phone call and a few clicks later, I saved $20 on my six month period!
Podcast Episodes
Afford Anything –  #130: Ask Paula – Should I Sell Stocks to Buy a Rental Property?
Paula takes a podcast and makes it her own. I don't feel like I am listening to a podcast but rather an individualized show just for me. It's fun and entertaining.
This episode highlights many different callers' questions for Paula but my key takeaway is that one should always run the numbers for their situation. One shouldn't just go sell all their stocks to buy rental property if it doesn't fit their goal.
Fire Drill Podcast – Living minimally to save and travel the world forever
Guest – Melody from Saving to Sail
Need to binge listen to a podcast? Gwen and J are the answer. Both provide such different viewpoints and outlooks to a situation that it makes the podcast entertaining, short, sweet, and to the point.
I've been binge-listening to all their episodes and had to re-listen to this episode. Not everything is what it seems to be on Instagram. There are hard routes to take but they are worth it. Live the life that you want to live and figure out a way to make it all work.
Do You Even Blog – How to Be Unique in a World Full of Redundant Content – Bella Avis
Pete is consistently putting out quality material. He truly loves what he does in life and it shows with his work ethic. So many quality posts and material on his site give readers (and listeners on his podcast) much to think about.
This podcast hits home for me. There is so much redundant content out there that it's hard to separate oneself. It just boils down to telling your unique story. Nobody has the same experiences as you.
Jocko Podcast –  138: The Dichotomy Of Leadership with Leif Babin. Self Control, and How to Find The Balance.
Jocko is the type of guy that tells you what you need to hear. You may not want the cold hard truth, but if you want to better yourself and be a better person, listen.
Having self-control is a huge part of being a leader. Oftentimes we find ourselves out of control and needing to refocus. Jocko highlights when to raise one's voice and take control.  
Count Down to FI – Episode 28 – Can You Really Retire on $1 Million?
CountDown to FI, simply put, is raw and down to earth. They get right down to business with no fluff in between. I really respect that.
This podcast episode highlights why it's reasonable to retire with $1 million. I enjoyed their talk about "what's normal." Individuals in the FI community do things a little differently than most just to save a buck or two. We're always thinking of unique ways to hack life.
Send us your material!
Feel free to send us articles, videos, podcast episodes, etc. that you've enjoyed. It can be from your own works of art or from someone else's. We might even feature your material!
We use Personal Capital to track our net worth. We simply connect our assets and it tracks everything for us! Our net worth, cash flow, budget, investment fees, retirement planner, and more are tracked through this site. It's completely free too! Sign up for free and receive $20 when you open an account!