Sunday Sharing Vol: 24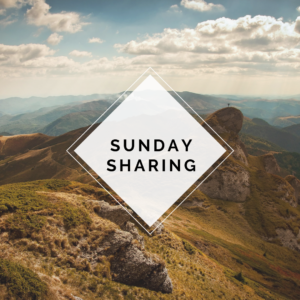 Each Sunday we post interesting articles, videos, podcast episodes, and more that we've consumed from across the web. We'll give our thoughts on what we've learned through others in Sunday Sharing.
What We're Reading
Jim Gaffigan never imagined he would have his own kids. 

Though he grew up in a large Irish-Catholic family, Jim was satisfied with the nomadic, nocturnal life of a standup comedian, and was content to be "that weird uncle who lives in an apartment by himself in New York that everyone in the family speculates about." But all that changed when he married and found out his wife, Jeannie "is someone who gets pregnant looking at babies."

Five kids later, the comedian whose riffs on everything from Hot Pockets to Jesus have scored millions of hits on YouTube, started to tweet about the mistakes and victories of his life as a dad. Those tweets struck such a chord that he soon passed the million followers mark. But it turns out 140 characters are not enough to express all the joys and horrors of life with five kids, so hes' now sharing it all in Dad Is Fat.

From new parents to empty nesters to Jim's twenty-something fans, everyone will recognize their own families in these hilarious takes on everything from cousins ("celebrities for little kids") to growing up in a big family ("I always assumed my father had six children so he could have a sufficient lawn crew") to changing diapers in the middle of the night ("like The Hurt Locker but much more dangerous") to bedtime (aka "Negotiating with Terrorists").

Dad is Fat is sharply observed, explosively funny, and a cry for help from a man who has realized he and his wife are outnumbered in their own home.
Articles / Blog Posts
When I first started this book, I expected to learn a bit about the benefits of sleep and maybe pick up a few helpful tips on how to sleep better. However, once I finished the book, I was amazed to learn about just how much sleep impacts nearly every aspect of our lives.

Not only does sleep impact how we feel throughout the day, but it has a direct impact on our mood, emotions, cognition, productivity, physical immune system, the food we crave, the way we interact with our peers, the ability to learn and retain new information, memorize facts, and a list of other areas. In short, sleep has a direct impact on our health, wealth and happiness.
Some great reasons for having a no-spend month are:

To build up your buffer so you can get a month ahead and start living on last month's income

To put more money toward paying off debt or some other financial goal

To reset your spending habits, serving a function similar to a fast or a cleanse would serve for your eating habits.

To cover an upcoming expense like a trip or a home improvement
Articles We Posted
Save the Pennies & Prevent the Pretend Penises!

I write this knowing full well that my mother and future mother-in-law will fight me over this when I decline a bridal shower. That's part of the challenge: older generations tend to see these events as rites of passage.

But I simply think bachelorette parties and bridal showers are a waste of time and money. Should we keep doing them just because of tradition? I think that being in a wedding is such a lovely and genuine honor. I also think it is expensive enough as is (which I will get to in a future post).

Having seen almost every one of my gal pals go through each step from getting engaged to walking down the aisle, I've been to many of these parties, and as maid of honor in my two best friends' weddings, I have even hosted a couple such events.

I always thought that having a bridal shower with family in the early afternoon and then segueing into the bachelorette party with friends that same night was the most efficient way to go (although among my lady friends, I was the only one who thought that). Now, I believe the better way to go is to opt out of both!
If you had to give just 1 tip that you've learned along your journey, what would it be and why?

Other than eliminating debt ASAP, I would say save as much as you can. And save NOW. Don't wait. Especially if you invest your money; the more you save now, the sooner you will be able to reach financial independence.

And even if you don't want to retire early, you should still aim for financial independence. That's because you never know what could happen with your employer or with the economy in general.
Spread Kindness!

February 17th is National Random Acts of Kindness Day. We thought, just one day!? Why not make this an entire month – 28 days of random acts? (We also see the irony in a day devoted to "random" acts of kindness…because they are not really random if they are deliberate and planned out. But does it really matter if you're doing something good?)

The rules are simple:

Follow the list of ideas below for each of the 28 days in February, or create your own for the day.
After you complete a RAK for the day, tweet about your random act and tag three other people in the tweet to challenge them to do a random act, too. Use the hashtag #RAKChallenge.
Smile! You've just made the world a better place!
Send us your material!
Feel free to send us articles, videos, podcast episodes, etc. that you've enjoyed. It can be from your own works of art or from someone else's. We might even feature your material!
Check out former Sunday Sharing volumes here!
We use Personal Capital to track our net worth. We simply connect our assets and it tracks everything for us! Our net worth, cash flow, budget, investment fees, retirement planner, and more are tracked through this site. It's completely free too! Sign up for free and receive $20 when you open an account!