A Lesson In Gratefulness – March & April Update
Gratefulness Challenge – March & April
This year we started a gratitude journal. This is where we take a few seconds out of our day to stop and think about what we are grateful for. This can be anything from big to small or even a multiple of things we are grateful for. This simple act of slowing down to reflect on the day makes us appreciate each moment as it comes to us.
What does it mean to be grateful? It means choosing to focus on what you appreciate in life. It means not taking anything, big or small, for granted.
We had heard of gratitude journals and decided to make a digital version. We will share our gratefulness notes each month with our readers. We want to extend this challenge to you! For the rest of the year, fill out what you are thankful for each day. Set a reminder on your phone to fill it out before bed. Again, this can be done digitally or in a notebook.
Our "why" for keeping a gratitude journal stemmed from a scary situation.
Random acts of kindness – be they small or grand – are all meaningful and can be life-changing. Even though we can't fully repay good souls who hosted us, we can pass on the kindness they showed us by multiplying it. Imagine what this world could be like with more people like them…or more people like you!
At the end of our tumultuous trip, we were feeling extra thankful for so much. We decided to start a gratefulness challenge. We made a Google Keep note that had all of the days in January on it and we set a reminder on our phones each evening to fill out what we were thankful for that day. We also shared it with one another so we could easily share our thoughts.
We've noticed that our thoughts have changed in only a month's time. We stop and take time to consider what matters to us every day. Having a Google Keep note also gives us another way to share what's on our minds and in our hearts that day.
This only takes 30 seconds to a minute to open up Google Keep on our phones, type what we are thankful for, and move on. This simple gesture has lead us to more meaningful conversations in our life. We have sat up talking about various things we are thankful for in the day and why we are thankful for them.
Having this conversation with one another allows us to understand one another better. We get to build our relationship every single day.
Below you'll find our two months of gratitude journal entries for January and February. You'll see that they are super simple and that's ok. We know what went on that day and it allowed us to reflect on the day before bed. That's all that matters.
So, if you're still reading this at this point, our challenge to you is to start your own gratitude journal today. We are firm believers in taking steps – big or small – to live a better life.
March
1. Tim – IPAs, tailgates, and sunsets L-. A husband who has an understanding heart & gorgeous weather
2.Tim – Podcasts L-. Baby cuddles
3.Tim – Road trips L-. My go-with-the-flow husband
4.Tim – Leg day in the gym L-. God using me to do something of value for others through volunteer work
5.Tim – My wife to keep the house in top notch shape L-. Pinterest for meal (and dessert) inspiration Hey
6.Tim – Sunsets L-. The gentleness of children
7.Tim – Date nights L-. Spontaneous dare nights with our pup in tow
8.Tim – Good friends with good drinks L-. Fun nights exploring the town and celebrating good people
9.Tim – Road trips, allows time to talk to my wife L-. A husband who is always thinking of bright ideas to improve the world around him
10.Tim – Magic Tricks L-. My Dad! ❤️
11.Tim – Goodnight Tea L-. Professional car detailers. Lord knows I need their help!
12.Tim – College Basketball L-. Pinterest recipes
13.Tim – Back massages L-. A husband who challenges me to grow instead of shrugging off bad (changeable) habits
14.Tim – walks with Atlas L-. Pi Day! And the opportunity to love others in the community through volunteer work + feeling like God put me where He wants me at this time
15.Tim – Road trips L-. A husband who knows how to clean as a team 😘
16.Tim – Sleeping In L-. Beautiful sites
17.Tim – Selection Sunday L-. The mountains
18.Tim – Sunset Strolls L-. Time
19.Tim – Family phone calls L-. Free books on my phone
20.Tim – Sunny weather L-. Being able to talk with my Dad on the phone any time
21.Tim – March Madness L-. Sight
22.Tim – Beer on the weekend L-. Clients for fun photo sessions
23.Tim – Sunsets with no phones L-. Reliable vehicle to get me to my photo sessions and beyond
24.Tim – Hikes in beautiful weather L-. A husband who makes me feel safe
25.Tim – No cavities!! L-. Warm weather
26.Tim – A wife that makes bomb breakfast 🙂 L-. A husband who kindly does a boatload of dishes ❤️
27.Tim – Deep stretching L-. Watching others' love evolve and grow
28.Tim – Documentaries L-. Thoughtful strangers
29.Tim – Lunch with friends, random strangers paying our bar tab, and knowing the world is a small place L-. "Coincidences" with good people & random acts of kindness
30.Tim – Steak that melts in your mouth L-. A husband who can cook a mean steak! 😋
31.Tim – People looking out for us L-. A husband who knows how to show me support in ways that speak to my love language
April
1. Tim – A good April Fool's joke L-. Good neighbors & funny kiddos
2.Tim – getting rid of clothes and random items L-. Best girl friends
3.Tim – A clean house L-. Photogenic clients
4.Tim – Beautiful sunsets L-. Sleep
5.Tim – IPAs L-. Weekend hikes
6.Tim – BBQ L-. Birthdays! Another year around the sun. 😊
7.Tim – A clean house L-. Sweet neighbors
8.Tim – A working Truck L-. Fitting everything into the Jeep for our move
9.Tim – Little known tourist traps L-. A thoughtful husband who is there for me in sickness & in health
10.Tim – 1 car family! L-. A sold vehicle!
11.Tim – National Parks L-. Safe travels
12.Tim – Meeting bloggers in real life L-. Friendly bloggers
13.Tim – Beautiful views L-. Family
14.Tim – A travelling dog L-. Subway and their free cookie surveys
15.Tim – Energy drinks on long road trips L-. Comfy bed
16.Tim – Unique places to stay L-. Being on the same page with my husband
17.Tim – Cracker Barrel L-. A safe arrival
18.Tim – a new Subaru L-. A safe vehicle & welcoming fsmilg
19.Tim – A new house L-. A new house to turn into a home!
20.Tim – family to help move in L-. My parents for being present for a big weekend for us. Also, my husband finally shaving his overgrown facial hair.
21.Tim – another year + Easter L-. Jesus! My husband! Both awesome reasons to celebrate!
22.Tim – Amazon delivery L-. Productivity with my husband – that we can both be home to settle into our house
23.Tim – haircut L-. Teamwork
24.Tim – New blinds in the house L-. A handy hubby
25.Tim – A clean home L-. A new rug that can change the feel of our entryway
26.Tim – A smoker grill L-. A home big enough to host & a hubby who is amazing!
27.Tim – A down day L-. Sweatpants
28.Tim – Baby Back Ribs L-. A hubby who is also a stellar grill master
29.Tim – First day on the new job L-. A new job! Hallelujah!
30.Tim – Leftover pizza L-. Really sweet in-laws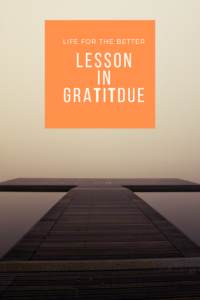 We use Personal Capital to track our net worth. We simply connect our assets and it tracks everything for us! Our net worth, cash flow, budget, investment fees, retirement planner, and more are tracked through this site. It's completely free too! Sign up for free and receive $20 when you open an account!